October 01, 2014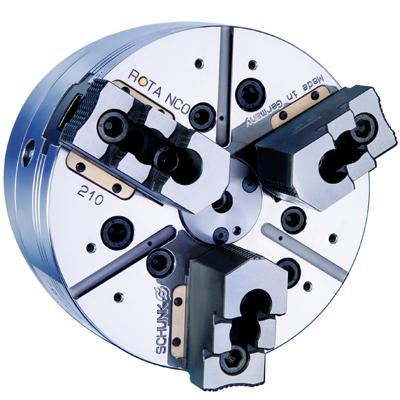 The SCHUNK ROTA NCO chuck has a high clamping force, low jaw stroke, and low height, ensuring more space in the engine room, short cycle times, and high versatility.
For economical productivity, the NCO offers several advantages: The high clamping force and large jaw stroke guarantees secure clamping across interfering contours and ensures maximum versatility. In I.D. and O.D. clamping, long base jaw guides support the chuck jaws so that high clamping forces are permanently maintained.
The relatively low weight of the lathe chuck reduces the mass that is moved during processing, allowing faster acceleration and deceleration in comparison to other chucks, which saves energy, shortens cycle times, and increases productivity.
The jaw interface is optionally available with a fine serration of 1⁄16" x 90 degrees or 3/3" x 90 degrees or with a metric tongue and groove. Adjustable bronze wiper strips seal the base jaws against water and dirt.
Related Glossary Terms
chuck


chuck

Workholding device that affixes to a mill, lathe or drill-press spindle. It holds a tool or workpiece by one end, allowing it to be rotated. May also be fitted to the machine table to hold a workpiece. Two or more adjustable jaws actually hold the tool or part. May be actuated manually, pneumatically, hydraulically or electrically. See collet.

lathe


lathe

Turning machine capable of sawing, milling, grinding, gear-cutting, drilling, reaming, boring, threading, facing, chamfering, grooving, knurling, spinning, parting, necking, taper-cutting, and cam- and eccentric-cutting, as well as step- and straight-turning. Comes in a variety of forms, ranging from manual to semiautomatic to fully automatic, with major types being engine lathes, turning and contouring lathes, turret lathes and numerical-control lathes. The engine lathe consists of a headstock and spindle, tailstock, bed, carriage (complete with apron) and cross slides. Features include gear- (speed) and feed-selector levers, toolpost, compound rest, lead screw and reversing lead screw, threading dial and rapid-traverse lever. Special lathe types include through-the-spindle, camshaft and crankshaft, brake drum and rotor, spinning and gun-barrel machines. Toolroom and bench lathes are used for precision work; the former for tool-and-die work and similar tasks, the latter for small workpieces (instruments, watches), normally without a power feed. Models are typically designated according to their "swing," or the largest-diameter workpiece that can be rotated; bed length, or the distance between centers; and horsepower generated. See turning machine.

wiper


wiper

Metal-removing edge on the face of a cutter that travels in a plane perpendicular to the axis. It is the edge that sweeps the machined surface. The flat should be as wide as the feed per revolution of the cutter. This allows any given insert to wipe the entire workpiece surface and impart a fine surface finish at a high feed rate.