November 16, 2021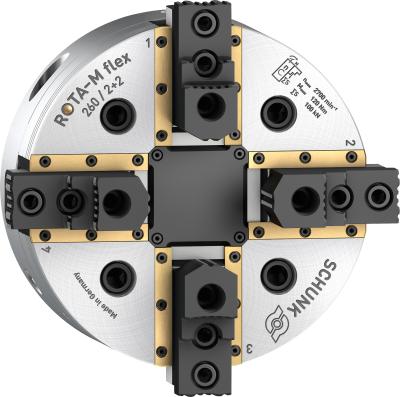 The ROTA-M flex 2+2 from SCHUNK is a low-maintenance 2+2 chuck jaw specially designed for meeting the increasing demands of the market. The patent-pending compensating mechanism provides a longer compensation stroke than other available 4-jaw chucks on the market. Depending on the size, it amounts to 5.1 mm up to 10 mm per jaw.
The result is increased flexibility for clampable workpiece geometries and a wide variety of possible applications. In many cases a single ROTA-M flex 2+2 chuck is sufficient for covering a wide range of part geometries.
Sealed guideways
Grease rinse out and gradual loss of clamping force is prevented with special seals on the guideways. Even in instances of low clamping forces, precise functioning of the chuck is ensured. At the same time, the sealings protect the chuck body against chips and dirt, increasing process safety and extending maintenance intervals.
The SCHUNK ROTA-M flex 2+2 clamping is done in a self-locking manner, and the clamping condition is signaled via indicating pins. The standard chuck sizes 260 to 1200 achieve jaw strokes from 9.5 mm to 17.8 mm and high clamping forces from 100 kN to 180 kN.
Serial extras for large chuck sizes
As of size 800, users benefit from the weight-reduced design. The chuck face is equipped with grooves, and fixed stops allow the chuck to also be used as a vise. Moreover, the large sizes are designed for use on vertical lathes. The SCHUNK ROTA-M flex 2+2 is equipped with a flexible serration (1.5 mm x 60° or 1/16"x 90°) so that the user can fully exploit the benefits of the world's largest range of standard chuck jaws from SCHUNK.
Related Glossary Terms
chuck


chuck

Workholding device that affixes to a mill, lathe or drill-press spindle. It holds a tool or workpiece by one end, allowing it to be rotated. May also be fitted to the machine table to hold a workpiece. Two or more adjustable jaws actually hold the tool or part. May be actuated manually, pneumatically, hydraulically or electrically. See collet.