January 13, 2013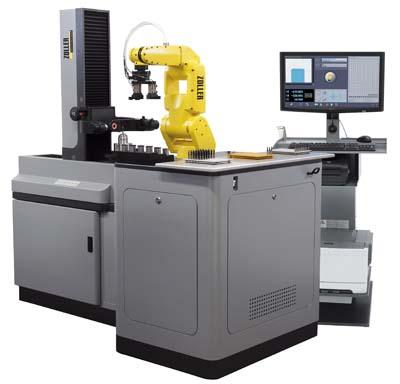 ZOLLER's >>roboSet<< features a six-axis articulated arm robot, equipped with a sensor with sensitive force-moment strain gage and two pneumatic parallel grippers at D 3-12mm. The system can load shafted tools onto every ZOLLER CNC-controlled measuring device with automatic power clamping and is easy to operate: simply hit the "start" button in the "pilot" software and >>roboSet<< will do the rest. Specific loading configurations and parameters are defined using a 'pallet management' functionality incorporated in ZOLLER's "pilot 3.0" software. All tools are then measured without any further user input. Customized "pallets" can be setup based on the individual user's quality control requirements.
After the measuring process, the robotic arm removes the tool from the presetter and measuring machine and deposits it in different pallets, automatically detecting defective or out of tolerance tools. Measuring values are stored in the "pilot 3.0" software where they can be reviewed or printed anytime. As an option, a laser writing device can be installed to label the tools and ensure a seamless and error-free documentation.
A physical separation of the robotic arm from the measuring device assures continuous high standards of measuring accuracy. And an automatic track correction of the robot at every loading move provides additional high process liability.
Related Glossary Terms
parallel


parallel

Strip or block of precision-ground stock used to elevate a workpiece, while keeping it parallel to the worktable, to prevent cutter/table contact.

quality assurance ( quality control)


quality assurance ( quality control)

Terms denoting a formal program for monitoring product quality. The denotations are the same, but QC typically connotes a more traditional postmachining inspection system, while QA implies a more comprehensive approach, with emphasis on "total quality," broad quality principles, statistical process control and other statistical methods.

tolerance


tolerance

Minimum and maximum amount a workpiece dimension is allowed to vary from a set standard and still be acceptable.