November 19, 2021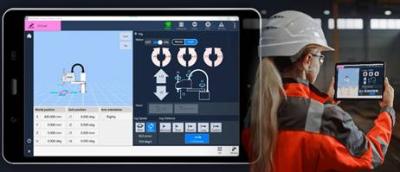 The business need for automation continues to grow as manufacturers look to ramp up volume and improve quality, cost and employee safety. Many new entrants to the market with limited automation experience lack expertise in text-based robotic programming language, creating a need for an intuitive robotic teaching environment. To help bridge the gap, Epson Robots, the #1 SCARA robot manufacturer in the world, recently announced the new no-code, easy-to-use Epson RC+® Express. An intuitive visual-based teaching environment, Epson RC+ Express offers fast, efficient programming of Epson SCARA robots for users with little-to-no programming experience, enabling manufacturers to quickly and easily develop robotic programs to overcome cost and time barriers associated with running industrial robots.
"Epson is overcoming automation barriers by eliminating the perceived difficulty of programming a robot," said Rick Brookshire, director of product management and product development, Epson Robots. "Our existing Epson RC+ software is widely known for its ease of use and power. The new Epson RC+ Express delivers the next level of simplicity by allowing new robotics users to build simple applications quicker and easier than ever before – without needing to learn any programming language."
Developed for Epson T-Series All-in-One and LS-B Series SCARA robots, Epson RC+ Express features a simple, visual-based teaching environment that integrates an easy-to-learn, block-style format with the power and flexibility of a scripted-text programming language. Ready-to-use templates are included, allowing users to quickly create common pick-and-place, palletizing and depalletizing applications.
Epson RC+ Express includes a simple-to-navigate visual user interface, making it easy to learn and manage key functions like jogging, gripper control and motion. The software is equipped with time-saving features such as Epson proprietary Focus Assist technology with auto generated fields for quick and easy setup, and a built-in 3D simulator to help visualize and fine-tune applications.
Additional features include:
Expansive SCARA robot lineup support — works with T-Series and LS-B Series robots with 3 to 20 kg payloads and up to 1-meter reach; ISO 4 cleanroom models available
Tablet-based Windows® OS environment — compatible with touchscreen devices to easily create robot applications
Low total cost of ownership — RC+ Express is included with the purchase of Epson T-Series All-in-One and LS-B Series SCARA robots with no recurring licensing fees
Related Glossary Terms
robotics


robotics

Discipline involving self-actuating and self-operating devices. Robots frequently imitate human capabilities, including the ability to manipulate physical objects while evaluating and reacting appropriately to various stimuli. See industrial robot; robot.