May 13,2013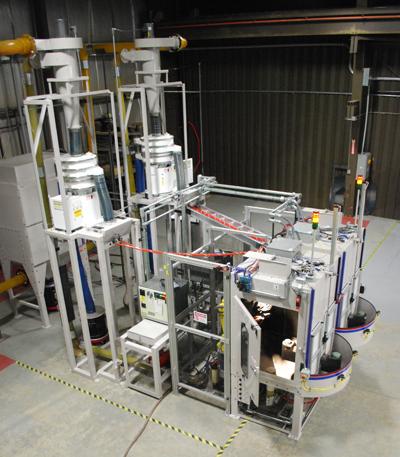 Guyson Corp. has introduced a rotary indexing spindle-blast machine that incorporates a robot nozzle manipulator and two auxiliary axes of coordinated robotic motion of its servomotor-driven spindles. The RB-RXS-400 is designed for precision work cell finishing and surface preparation operations with the capability to be loaded and unloaded by a robot.
A 6-axis Fanuc M-10iA robot is rigidly mounted on a pedestal at the rear of the 46 x 42-inch blast cabinet and fitted with a custom-tailored protective suit of laminated fabric that seals the back wall of the blasting enclosure and isolates the IP-67 device from the potentially abrasive environment of the work chamber. The end-of-arm tooling consists of a custom-designed gun bracket that secures multiple suction-blast guns and blow-off nozzles for a post-blast air wash cycle. Pressure-blast media delivery is also available.
The 180-degree-indexing turntable design enables robotic unloading and loading to take place during the automated blasting cycle. Rotation of both component-holding spindles is synchronized by the FANUC R-30iB robot controller, so not only is the motion of the part being blasted coordinated with the motion of the blast guns to maintain the correct angle, offset and surface speed, the component outside at the load station is accurately oriented for precise picking and replacement by the machine-tending robot. The precision cam-indexer-rotated table is designed with rotary unions, so compressed air can be delivered to the spindles for automated fixture clamping and unclamping.
Suction-blast media delivery in the RB-RXS-400 is gravity-assisted, with the hopper that feeds shot, grit or beads to the blast guns elevated above the blast cabinet. The blasting machinery manufacturer claims this feature augments the performance of the blast system because the vacuum induced by the suction guns does not have to lift the media up through the hose before it is mixed with compressed air and accelerated in the body of the blast gun.
In addition to a Stairmand-design cyclone separator and media reclaimer for removal of dust and fines, the reclamation system is also enhanced by a vibratory screen classifier to ensure that only media particles of the specified size are fed to the guns. Electronic sensors in the feed hopper detect when the media level drops below a preset point, signaling the system's programmable logic controller (PLC) to automatically add media from a built-in storage hopper.
To ensure consistency of finish, the air pressure of the blast gun bank is automatically regulated under closed-loop control to maintain the exact value specified in the process recipe for the component. The actual blast pressure is displayed in real time at the operator control panel. Data acquisition software is also offered for logging readings of all blast processing parameters, if desired.