February 01, 2015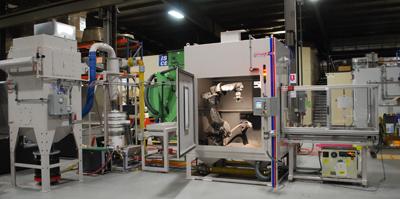 Guyson Corp. has designed and built a robotic grit-blasting machine that is specially adapted for processing aircraft turbine blades in production lots. The RB-10-TC was developed for lightly attended operation and blasts an entire pallet-load of components without human intervention.
A FANUC M-10iA robot is mounted on a pedestal inside the 60 x 60-inch blast enclosure and is fitted with a custom-engineered gripper as end-of-arm tooling. A single suction-blast gun or pressure-blast nozzle is bracketed in position within easy reach of the component-manipulating robot. To enable regripping of blades to obtain uniform coverage of areas obscured by the robot's part-holding gripper. a stationary auxiliary clamp or gripper or is provided.
The RB-10-TC design incorporates a servomotor-driven linear actuator on a rigid stand attached to one side of the blast cabinet that carries a transfer cart in and out of the process chamber. Custom-designed pallets or fixture trays securely cradle the blades in the correct location and orientation for robotic picking. Controlled as a seventh axis of robotic motion by the FANUC R-30iB robot controller, the transfer cart is made with alignment hardware to positively locate the interchangeable pallets filled with turbine blades, so the components are presented to the robot in precisely the expected position.
In operation, the robotic arm grasps a component from the pallet, which then withdraws from the cabinet through an opening with a pneumatically-actuated sliding door. The robot exposes the part to the blast, constantly maintaining the correct stand-off distance and blast angle, while smoothly manipulating the blade in the programmed tool path to follow the contours of the component at the proper surface speed to assure thorough and uniform coverage. At the end of the blast cycle, the component is replaced in the tray pocket it came from, and the robot repeats the identical process until all the parts on the pallet are finished.
The robotic blast system is completed by a cyclone separator/media reclaimer that removes dust and fines from the recirculated grit, a vibratory screen classifier to ensure that only grit particles of the specified size are fed to the blast gun and a cartridge dust collector that maintains negative pressure in the blast chamber, generates sufficient air flow to convey media through the reclaimer and ensures that air discharged into the plant environment is free of particulates. The self-cleaning dust collector is optionally fitted with a HEPA filter.
Related Glossary Terms
fixture


fixture

Device, often made in-house, that holds a specific workpiece. See jig; modular fixturing.