September 01, 2015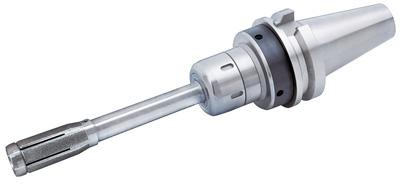 NT Tool offers its R-Zero runout adjustment system in its CTZ toolholders for large cutting tool diameters. NT Tool's original four-point adjustment mechanism makes it easy to adjust runout at the tool tip to as low as 0–2 µm. The CTZ R-Zero Holder allows high levels of precision for cutting tool diameters from 1"-1.5" (or 25-42mm), making it a perfect choice for reaming and large diameter holemaking, according to the company.
The four-point adjustment system is simple, and the full adjustment procedure can be completed in under 60 seconds. Setup requires nothing more than a spanner for clamping down the tool, and an adjustment wrench (included) for the runout-adjustment screws. An electro-magnetic rust proof coating, standard for most NT holders, ensures that the holder's accuracy and balance is not compromised over the holder's life.
The CTZ R-Zero Holder utilizes the same clamping system as their CTS Super Tite-lock Milling Chuck, which is designed to prevent slippage and pulling out during heavy machining. In addition to the high gripping force of the mechanism itself, the CTZ R-Zero Holder uses a T-slit inside the bore of the holder to give the compressed cutting tool an area to expand in to. This locks the tool in place, and prevents it from moving either sideways or vertically even under great force.
CTZ R-Zero Holders are available in CAT (standard and two-face contact), BT (standard and two-face contact), HSK, and UTS shank styles. They are offered in metric sizes of 25mm, 32mm and 42mm, and inch sizes of 1", 1.25" and 1.5", with MC collets for cutting tools of other sizes. The R-Zero runout adjustment system is also available for smaller diameter cutting tools in a number of different holder types, including the HDZ Collet Holder and the PHZ Hydraulic Holder. Custom sizes are readily accommodated.