December 13, 2013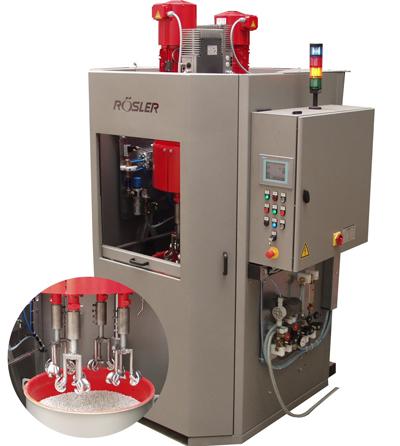 Rosler announces its R-SF line of efficient mini-drag machines. These powerful units provide a superior finishes and precise, repeatable processes ideally suited for a wide range of components from propellers and golf-clubs to artificial joints and dental implants.
Rosler's new mini-drag machines provide 40x the grinding power of rotary vibrators yet eliminate impingement between delicate components. These machines include hydraulically powered carousel assemblies allowing vertical movement for versatile processing and are also equipped with up to four rotating work stations each with independent drives. Featuring heavy-duty construction, protective cabin with plexi-glass doors, and industrial grade motors, all R-SF machines include a work bowl lined with highly wear-resistant polyurethane for years of durable service.
Each R-SF mini-drag finisher comes with a user-friendly PLC-based control panel for programming all essential operations. Other convenient features include a media unload port for quick and easy media changes as well as dosing equipment for accurately managing water and compounds.
Related Glossary Terms
grinding


grinding

Machining operation in which material is removed from the workpiece by a powered abrasive wheel, stone, belt, paste, sheet, compound, slurry, etc. Takes various forms: surface grinding (creates flat and/or squared surfaces); cylindrical grinding (for external cylindrical and tapered shapes, fillets, undercuts, etc.); centerless grinding; chamfering; thread and form grinding; tool and cutter grinding; offhand grinding; lapping and polishing (grinding with extremely fine grits to create ultrasmooth surfaces); honing; and disc grinding.