December 11, 2019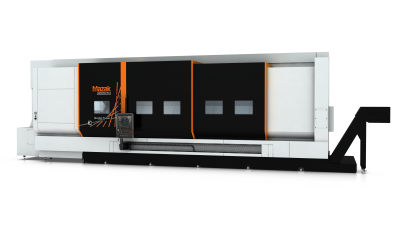 Mazak Corp.'s Quick Turn 550MY CNC turning center with multitasking combines advanced technology, productivity and value to deliver exceptional performance for shops large and small. As an MY configuration machine, the Quick Turn 550MY features milling capabilities and Y-axis functionality along with a standard through-hole chuck package to process a wide range of medium or larger-diameter parts in single setups. For large-diameter pipe or tubular applications, the Quick Turn 550MY can be equipped with an optional front and rear air chuck package.

The Quick Turn 550MY utilizes high-output integral spindle/motors to increase mass in the headstock and reduce spindle vibration for optimal high-accuracy machining. In addition to its standard 2,000-rpm, 50-hp (37 kW) spindle, the Quick Turn 550MY can accommodate 60-hp (45 kW) spindles with speeds of 1,000 rpm and 1,800 rpm for
spindle bores of 10.8" (275 mm) and 7.28" (185 mm), respectively.
Sporting a 12-position, direct-drive turret that eliminates the use of belts for improved part surface finishes and reduced maintenance, the Quick Turn 550MY can accept both VDI and bolt-on tooling and now comes standard with a 20-hp (7.5 kW), 4,000-rpm spindle. The machine's headstock has an optional 18" main chuck mounted on an
optional 60-hp (45 kW), 2,000-rpm integral spindle motor for heavy-duty metal removal. For further process versatility, Y-axis off-centerline machining capabilities feature Mazak's special high-gain servo-control turret/feed axis motion. The machine's fully CNC programmable tailstock delivers simple, precise and automatic control of the Z-axis
directional movement and thrust force settings, while linear roller guides and rigid machine construction provide positioning accuracy two times higher than the equivalent ISO standard.
The Quick Turn 550MY also features a new Mazak Smooth Tool Eye. It is an airactuated system that will allow parts to remain in the chuck, even when using larger 18" and 21" chucks, during measuring procedures.
With Mazak's Mazatrol SmoothG CNC, the Quick Turn 550MY gives shops the flexibility of both EIA/ISO programming and Mazatrol conversational programming to quickly and easily generate programs for fast changeovers or high-production part applications. The controls also feature advanced hardware and software functions that help ensure high productivity and performance accuracy. For increased user friendliness, a new door design allows the machine's CNC panel to travel the full Z-axis length of the machine. The panel also pivots 180 degrees, depending on machine
operator height as well as swivels.