December 10, 2019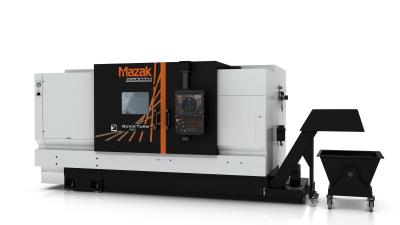 Mazak Corp.'s Quick Turn 450 CNC turning center combines advanced technology, productivity and value to
deliver exceptional part processing for shops large and small. Additionally, Mazak now offers the machine with an optional, powerful 60-hp integral motor main spindle.
The Quick Turn 450's high-output integral spindle/motor increases mass in the machine's headstock to reduce spindle vibration during heavy cutting and provide optimal high-accuracy machining. In addition to its standard 50-hp (37 kW), 2,000-rpm spindle with 7.28" (185 mm) bore, the Quick Turn 450 can also accommodate a 60-hp (45 kW), 2,000 rpm spindle with 7.28" (185 mm) bore or a 60-hp (45 kW), 1,000-rpm spindle with 10.8" (275 mm) bore for larger through-hole applications.
A 12-position, direct-drive turret eliminates the use of belts to provide shorter tool index times and reduced maintenance. The machine's headstock has an optional 18" hydraulic chuck mounted on an optional 60-hp (45 kW), 2,000-rpm integral spindle motor for heavy-duty metal removal.
Available in three bed lengths for maximum machining lengths of 39.45" (1,002 mm), 80.79" (2,052 mm) or 122.13" (3102 mm), the Quick Turn 450 can swing workpieces up to 35.83" (901 mm) in diameter and machine parts up to 22.83" (580 mm) in diameter. The machine also features a fully CNC programmable servo driven tailstock for simple, precise and automatic control of the Z-axis directional movement and thrust force settings. Linear roller guides and rigid machine construction provide positioning accuracy two times higher than the equivalent ISO standard.
The Quick Turn 450 comes standard with Mazak's Tool Eye, an automatic tool presetting system. By bringing the tool tip into contact with the Tool Eye, offset of tool nose position, tool measurement and data registration are done automatically to ensure accurate and fast tool setup. The Tool Eye can also be programmed to monitor tool wear on a periodic basis.
Mazak's Mazatrol SmoothG CNC on the QUICK TURN 450 offers the flexibility of both EIA/ISO programming and Mazatrol conversational programming that makes it fast and easy to generate programs for quick changeover or high-production part applications. The controls also feature advanced hardware and software functions that help ensure high productivity and performance accuracy.