December 10, 2019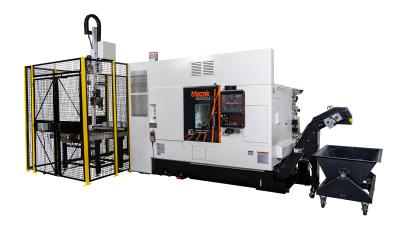 Mazak Corp. offers its Kentucky-built Quick Turn 250MSY multitasking machine, which can be paired with GR100
gantry robot automation for continuous Done In One part production. The Quick Turn 250MSY features two turning spindles, milling capability and Y-axis off-centerline machining. Its main turning spindle headstock features a 10" chuck mounted on a 35-hp, 4,000-rpm integrated spindle motor that generates 343 ft.-lbs. of torque for heavy-duty metal removal.
To position parts accurately for square facing/slotting cuts and precisely drilled holes, the main turning spindle also serves as a full-functioning C-axis, programmable in 0.0001-degree increments. The machine's second spindle with 15 hp, 6,000-rpm maximum speed and a 6" chuck enables the Quick Turn 250MSY to transfer parts automatically and perform secondary operations with speed and accuracy.
The machine's 12-position, direct-drive turret improves part surface finishes and reduces maintenance over belt-driven designs, and it can be configured with either VDI or bolt-on tooling. The turret's rotary tool spindle delivers 10 hp, 6,000 rpm and 35 ft.-lbs. of torque, or 10,000 rpm with an optional tooling package.
Mazak developed the GR100 for easy integration with all Quick Turn 200/250 series machine models, including 2-axis, milling, Y-axis and/or second spindle versions, with easy programming through its Mazatrol SmoothG CNC. The GR100 requires no special robot/machine interface to integrate with Quick Turn machines. For application flexibility, options include two GR100 workpiece-table configurations and end-of-arm tooling with three-jaw grippers.
The GR100 robot workpiece table configurations include a 2-pallet changer that can position parts in rows across each table and a 16-position rotary stocker system that can stack parts on each individual stocker. For uninterrupted machine operation, operators can use the 2-pallet changer to access the pallet on one table while the other table shuttles into the load/unload area. The rotary table design allows for greater initial part density but without access during automatic operation. An optional single partdischarge tray facilitates unloading specified parts for inspection.
All GR100 robots include a two-sided, three-jaw D3 gripping hand with a part range up to 7" in diameter, 6" in length and total weight of 44 lbs. The field-proven, and simple-to-configure design allows shops to load/unload a wide variety of chuck work. To reduce machine idle time significantly, Mazak complements the GR100 with a fast,
integrated, servo-driven automatic door that allows the robot to enter the machine envelope at a 3,937-ipm rapid rate on the robot's A-axis and 7,087-ipm rapid rate on its B-axis.