July 01,2014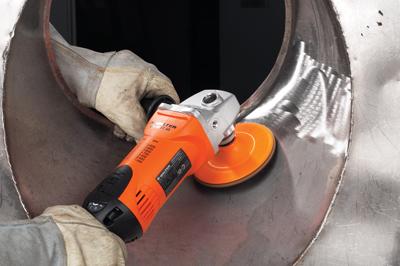 Walter Surface Technologies has introduced QUICK-STEP XX, the latest addition to the company's QUICK-STEP family of sanding disc products. The new QUICK-STEP XX combines both a high removal rate and a semi-fine finish. The new QUICK-STEP XX removal rate is twice as fast when compared to regular Velcro and PSA (pressure sensitive adhesive) sanding discs and this new disc boasts an extra-long life, with at least six times the stock removal compared to regular sanding discs, according to the company.
Designed for a range of industries such as aerospace, automotive, appliances, and pharmaceutical, QUICK-STEP XX leverages exclusive Cyclone Technology, a high-tech blend of abrasive grains, and combines it with a special cooling agent to ensure cool cutting and prevent burning and distortion, allowing end-users to blend and finish more pieces in less time.
The QUICK-STEP XX also features self-sharpening grains — allowing for a consistent high cutting rate throughout the lifetime of the sanding disc — along with an extra strong cloth backing designed to be resistant to ripping when catching an edge, unlike regular paper discs. Paired with an interface pad, the QUICK-STEP XX sanding disc offers greater flexibility, making it ideal for curved surfaces.
"For end-users demanding greater flexibility, added durability, and the ability to efficiently blend and finish more pieces more quickly and cooler than ever before, QUICK-STEP XX meets and exceeds these industry requirements," said Jonathan Douville, Product Manager, Walter Surface Technologies.
Related Glossary Terms
abrasive


abrasive

Substance used for grinding, honing, lapping, superfinishing and polishing. Examples include garnet, emery, corundum, silicon carbide, cubic boron nitride and diamond in various grit sizes.

backing


backing

1. Flexible portion of a bandsaw blade. 2. Support material behind the cutting edge of a tool. 3. Base material for coated abrasives.

burning


burning

Rotary tool that removes hard or soft materials similar to a rotary file. A bur's teeth, or flutes, have a negative rake.