September 01, 2010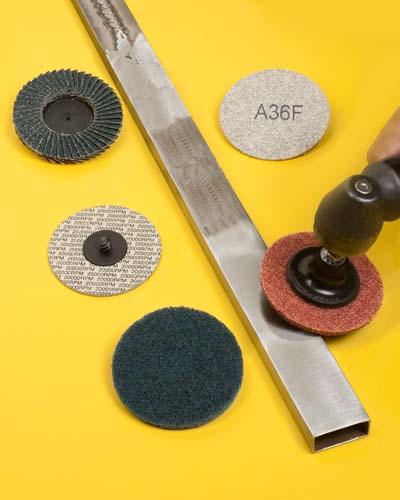 Three types of quick-change abrasive discs for grinding, blending, and putting a smooth final finish on aluminum, steel, and stainless steel fabrications are available from Rex-Cut Products Inc. Quick-Change Abrasive Discs all feature Type "R" connectors to let users rapidly reduce welds, blend scratches, and apply a final finish to aluminum, steel, and stainless steel fabrications. Three product types are included: Mini-Flap Discs with a zirconium grain abrasive for grinding, Cotton Fiber Discs impregnated with abrasives for blending, and MegaBrite Surface Conditioning Discs with non-woven construction for final finishing. Designed for use with portable right angle grinders, Rex-Cut Quick-Change Abrasive Discs are available in 2"- and 3"-dia. sizes and various grits to match specific job requirements. The Mini-Flap discs provide smooth, controlled grinding with a cushioned feel, the Cotton Fiber Discs run cool and last up to 25 times longer than conventional coated discs, and the Surface Conditioning Discs leave a smooth, clean finish, claims the firm.
Related Glossary Terms
abrasive


abrasive

Substance used for grinding, honing, lapping, superfinishing and polishing. Examples include garnet, emery, corundum, silicon carbide, cubic boron nitride and diamond in various grit sizes.

grinding


grinding

Machining operation in which material is removed from the workpiece by a powered abrasive wheel, stone, belt, paste, sheet, compound, slurry, etc. Takes various forms: surface grinding (creates flat and/or squared surfaces); cylindrical grinding (for external cylindrical and tapered shapes, fillets, undercuts, etc.); centerless grinding; chamfering; thread and form grinding; tool and cutter grinding; offhand grinding; lapping and polishing (grinding with extremely fine grits to create ultrasmooth surfaces); honing; and disc grinding.