December 10, 2019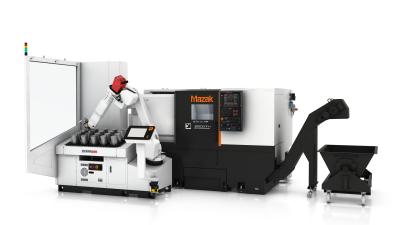 Mazak Corp. offers the high-performance (HP) configuration of its versatile QTU-350 turning center. The Kentucky-built machine can be paired with a RoboJob TA200 automation package to further boost the productivity of this simple, but innovative machine.

The RoboJob TA200 automation package includes an articulating robot with a 44.1-lb. (20 kg) payload capacity and dedicated loading/unloading station and is equipped with an area scanner to create a safe open layout. The robot's dual three-jaw grippers can accommodate parts ranging from 0.39" to 6.69" (10 mm to 170 mm) in diameter, while a
simple fixed workpiece table ensures easy loading of pre-cut stacks of raw material and unloading of finished parts with minimal operator intervention.
Featuring a new, more open, base casting design for improved chip removal, the QTU- 350 HP comes equipped with a 30-hp (22 kW), 4,000-rpm turning spindle that delivers 295 ft.-lbs. (400 Nm) of torque. The machine's integral spindle/motor headstock provides extreme rigidity in heavy-duty machining and unmatched precision in high-speed
applications. A variable-speed AC motor powers the headstock to provide smooth and precise spindle acceleration/deceleration. An innovative headstock motor braking design provides high-accuracy C-axis positioning within 0.0001 degrees.
A special servo-driven turret on the QTU-350 HP features a roller gear cam drive system that ensures smooth high-speed, high-accuracy indexing motion. The roller gear design eliminates the need for expensive components, such as curvic/index couplings. The QTU-350 HP has a maximum swing of 27.4" (695 mm) and accommodates parts up to 13.5" (340 mm) in diameter and 19.6" (497 mm) long. Its bed design uses a low center of gravity to ensure rigid heavy cutting performance. A one-piece Z-axis way cover design improves chip disposal and supports extended, maintenance-free operation.
Related Glossary Terms
computer-aided manufacturing ( CAM)


computer-aided manufacturing ( CAM)

Use of computers to control machining and manufacturing processes.

payload ( workload)


payload ( workload)

Maximum load that the robot can handle safely.

turning


turning

Workpiece is held in a chuck, mounted on a face plate or secured between centers and rotated while a cutting tool, normally a single-point tool, is fed into it along its periphery or across its end or face. Takes the form of straight turning (cutting along the periphery of the workpiece); taper turning (creating a taper); step turning (turning different-size diameters on the same work); chamfering (beveling an edge or shoulder); facing (cutting on an end); turning threads (usually external but can be internal); roughing (high-volume metal removal); and finishing (final light cuts). Performed on lathes, turning centers, chucking machines, automatic screw machines and similar machines.