December 16, 2020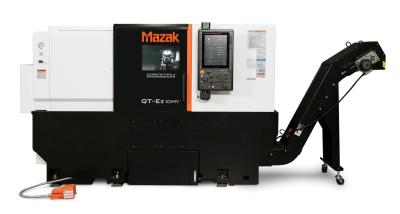 Mazak Corporation has announced the introduction of a new series of Kentucky-designed and built CNC turning machines, the QT-Ez Series. Designed to give job shops and other manufacturers affordable access to Mazak technology and engineering expertise, the QT-Ez Series offers a wide range of turning centers, including those with Multi-Tasking and DONE IN ONE® functionality. With the addition of the new MAZATROL SmoothEz control and automation systems such as Mazak's new Cobot Cell (CC) Series, these high-value, versatile solutions ensure ease of operation along with high productivity.
Models within the new turning machine series include the QT-Ez 8, QT-Ez 10 and QT- Ez 12 each offered in 2-axis, M, MY and MSY versions. M versions include milling capability, MY machines feature milling and Y-axis off-centerline capability and MSY machines are a combination of both milling and Y axis capability paired with second turning spindles for complete DONE IN ONE® part processing. For further increased productivity and unmanned operations, the machines seamlessly integrate with bar feeders and robots.
Each QT-Ez model number indicates the standard chuck size, but Mazak also offers a smaller size optional chuck for each machine to provide greater maximum rpm capability. These include a 6" chuck option for the QT-Ez 8, an 8" for the QT-Ez 10 and 10" for the QT-Ez 12. Each model is available in a 20" bed length and an optional 40" bed length for the QT-Ez 12 model. Available machine turrets include 2-axis drum style, with a bolt-on or BMT55 turret for rotary tool applications, and tailstocks are offered with either manual positioning with hydraulic quill or servo positioning capability.
To further aid shops in maximizing productivity, the QT-Ez Series has been designed for a range of automation solutions from simple bar feeders and parts catchers to full cooperative robot installations such as Mazak Automation Systems' Cobot Cell System models, the CC-10 and CC-16. The CC-10 system uses a newly released FANUC CRX- 10iA/L and 10 kg payload capacity, while the CC-16 is built around a proven Universal
Robots UR16e platform and a 16 kg payload capacity. Both systems come with three available grip systems and use an area scanner with limited fixed fencing to allow fully collaborative human-robot workflows.
All QT-Ez models feature powerful and reliable integral motor headstocks, Hybrid MX roller guideways and pre-tensioned ball screws supported at both ends for reliable, thermally stable and precise machine axis movement. A new bed casting design provides outstanding rigidity as well as streamlined chip flow that helps to eliminate chip accumulation. For ease of integration the machines are prepared with 200-230 Volt power supply systems.
The QT-Ez 8 has an A2-6 spindle mount with 5,000 rpm, 20 hp and 123 ft-lbs of torque and a 2" bar capacity. The QT-Ez 10 has an A2-6 spindle mount with 4,200rpm, 20 hp spindle and 144 ft-lbs of torque and a 2.5" bar capacity. The QT-Ez 12 uses a larger A2- 8 spindle nose with 3,300 rpm, 30 hp and 285 ft-lbs of torque as well as a 3" bar capacity.
The turret milling spindles of the M, MY and MSY versions of the QT-Ez 8 and QT-Ez 10 models are 6,000 rpm with 7.5 hp and 25.8 ft-lbs of torque. The QT-Ez 12 also has a standard 6,000-rpm milling spindle, but with 10 hp and 32.5 ft-lbs of torque. MSY models feature a 6,000 rpm second turning spindle with a 5" chuck on the QT-Ez 8 and a 6" chuck on the QT-Ez 10 and QT-Ez 12, and all are offered with optional through- hole packages for shaft transfer applications.
The QT-Ez machines also come with a variety of tailstock options. The first is no tailstock for chucker-style operations. The standard tailstock is a manual body with hydraulic quill and #5 live center that provides 1,573 ft-lbs of thrust. The optional tailstock for the short bed 20" machine is a servo-driven style with #5 live center. For the 40" bed size machines, the tailstock is a servo-driven style with #4 built in center. Both servo tailstock options provide 1,573 ft-lbs of thrust.
Alongside optional bed lengths, spindles, chuck sizes and tailstocks, the QT-Ez Series is available with a complete range of other cost-effective and popular options. These include Mazak's Automatic Tool Eye, chip conveyor, auto door, auto parts catcher and high-pressure coolant systems all of which make it easy for shops to further improve productivity.
For fast and easy machine programming, Mazak's new MAZATROL SmoothEz CNC on QT-Ez machines provides dual 800 MHz processors, 512 MB of RAM and a vibrant 15" capacitive touch screen that includes a full keyboard and displays up to 60 lines of code. Within the control, EIA/G-code and MAZATROL programming languages support a full range of programming options directly on the machine, while the MAZATROL TWINS function enables use of Solid MAZATROL, Virtual Machining and Cutting Adviser through Smooth Cam Ai and centralized storage and file management through Smooth Project Manager.
The MAZATROL SmoothEz control also features Mazak's new LAUNCHER interface, accessible in every screen providing one touch selection to any required screen selection for seamless operator navigation. To further streamline programming, the control's QUICK MAZATROL function simplifies program creation and confirmation through touch screen editing and confirmation of 3D models.