March 15, 2016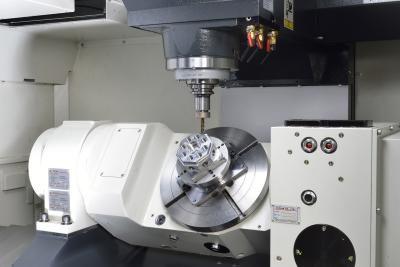 Chevalier's QP5X-400, a 40-taper, high-speed VMC that features 5-axis simultaneous or 4+1 axis applications. The standard machine is integrated with 2-axis, 12.6" trunnion table. The new QP5X-400 has better accuracy, more productivity, less manpower, less cycle time and higher profitability, according to the company. The machine is for high-speed, high-precision and high-productivity machining that is suitable for the aerospace, medical
and moldmaking industries.
Heavy-duty construction features high rigidity, with major parts of the machine constructed of high-quality Meehanite cast iron, enhancing stability. The column design is an inverted Y-shape, one-piece construction for superior rigidity and stability. The pretensioned Class C3 ballscrews are used in all three axes. All servomotors are directly coupled to ballscrews, increasing movement sensitivity while dramatically reducing backlash.
The machine has a table load of 220 lbs. with a 12.6" trunnion table. The workpiece dimension is 15.7" x 13.7"H. Travel for the X, Y and Z axes are 20.5" x 15.8" x 15", respectively.
The series offers a 2-axis trunnion table with a heavy-duty, three-piece, cross-roller bearing, providing excellent part loading and machining capability and a ±10" accuracy for the A-axis. The spindle includes a large-diameter Big Plus spindle design that uses four-piece, P4 Class, high-precision angular-contact ball bearings to increase spindle rigidity and maintain high accuracy during high-speed machining. A direct drive spindle is standard for low noise, vibration and thermal expansion. The series provides fast interpolation, with a high-linear rapid speed of 1,417 / 1,417 / 1,181 ipm. The spindle taper is 40; spindle power is 25 HP/FANUC, with a spindle speed of 10,000 rpm (optional 12K and 15K). Tool capacity is 30+1.
The series includes a FANUC 0iMF control for 4+1 applications; color 10.4" LCD that has a 4-axis simultaneous controller, linear-circular-helical interpolation, a Manual Guide 0i and much more. The FANUC 31iB-5: 10.4"
TFT LCD color monitor offers a 5-axis simultaneous control.
Related Glossary Terms
backlash


backlash

Reaction in dynamic motion systems where potential energy that was created while the object was in motion is released when the object stops. Release of this potential energy or inertia causes the device to quickly snap backward relative to the last direction of motion. Backlash can cause a system's final resting position to be different from what was intended and from where the control system intended to stop the device.

inches per minute ( ipm)


inches per minute ( ipm)

Value that refers to how far the workpiece or cutter advances linearly in 1 minute, defined as: ipm = ipt 5 number of effective teeth 5 rpm. Also known as the table feed or machine feed.

interpolation


interpolation

Process of generating a sufficient number of positioning commands for the servomotors driving the machine tool so the path of the tool closely approximates the ideal path. See CNC, computer numerical control; NC, numerical control.