September 28, 2021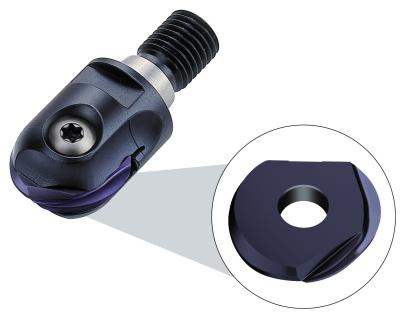 The new PVD-coated WHH15X milling grade from Walter excels at finishing and semi-finishing of hardened components up to 63 HRC as well as finish-milling of steel and cast-iron components when using wiper inserts. Finish machining of a component is possible with just one cutting edge.
The grade can also provide extra-long tool life, especially with hardness of 58 HRC or greater. The new WHH15X grade can be used universally for finishing on ISO materials P, K, and H, and is ideal for copy milling in die and mold making. It provides the high surface quality thanks to its wear resistance and edge stability, and yields cost savings by reducing the need for manual rework when copy forming.
The WHH15X grade features HIPIMS technology for excellent coating adhesion and a high degree of hardness, and AlTiN coating optimized for hard machining; this results in an extremely smooth surface for the best chip removal and high surface quality. This new grade also has an extremely wear-resistant carbide substrate and is available for tools for copy milling and finish milling, such as: the F2234 and F2231 round insert milling cutters, the F2139 profile milling cutter, the M5008 high feed milling cutter, as well as the SDHX, BCGX, and LNHX wiper inserts.