May 13, 2013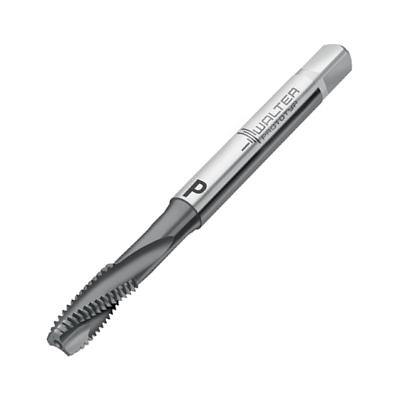 Walter has introduced the Walter Prototyp Paradur Short Chip HT blind hole tap, designed to increase process reliability and quality when tapping long-chipping high tensile (HT) strength steels.
Tapping, particularly blind hole tapping, is often a problem with long-chipping high strength materials. That's because the coiled swarf, or "bird's nest" that result can endanger the tap and force the machinist to stop the operation in order to clear out the swarf, incurring time and production costs.
The design of the Paradur Short Chip HT prevents this. It has a 15-degree helix angle for easy chip removal even in deep (3.5xD) and protected threads. This reduces to a 9-degree helix angle which, combined with a ground rake in the chamfer, ensures the creation of short chips. Axial internal cooling rinses these chips out of the hole through the spiral flutes.
In addition, the cutting edges have an adjusted rake angle. Tool life is enhanced by a proven THL hard coating, except on the reduced helix in the lower section of the tool which is ground after the coating is applied. The bare surface of the rake at this point aids chip breaking.
This combination of features enables the Prototyp Paradur Short Chip HT to reduce machine downtime, reduce tooling costs due to longer tool life, and produce clean and chip free threads. In addition, interference contour is no problem due to the short chips.
While the Paradur Short Chip HT delivers these benefits on high-tensile long chipping materials, it can also be used on low tensile strength materials such as aluminum alloys or ductile cast iron.