September 01, 2014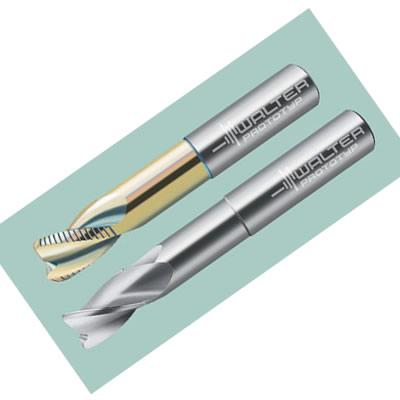 Walter has introduced the Walter Prototyp Supreme MB265 and MB266 solid-carbide milling cutters, two new milling tools that boost productivity due to their high metal-removal rates, while also increasing process reliability thanks to design features that act to enhance stability while simultaneously decreasing the likelihood of microfracturing.
In keeping with its practice of continuous product improvement, these two new mills replace and expand the technical capabilities of Walter's Sky-tec milling cutters. One of the key design features of the new mills is their coolant strategy. The conventional approach with this type of tool is to have both axial and radial coolant exits. However, this approach tends to make the tool less reliable, largely because radial exits are produced by an EDM machine, often leading to microfractures.
With the Supreme MB265 and MB266 careful engineering of the axial coolant exists has allowed the radial exits to be removed, eliminating this problem. In addition, both of these new milling cutters feature V-cutting edges that result in more ramping angle as well as one cutting edge to the center.
The new solid carbide milling cutters are engineered primarily for use with the ISO N material group which includes alloys of wrought aluminum, cast aluminum, and magnesium, as well as bronze and brass. Applications include shoulder milling, slot milling, interpolation milling, and plunge milling in general metalworking as well as aerospace. The Supreme MB265 is available in grades WJ30UU (uncoated) and WJ30CA (CrN coated). The Supreme MB266 is available in grade WJ30UU (uncoated).