October 13, 2012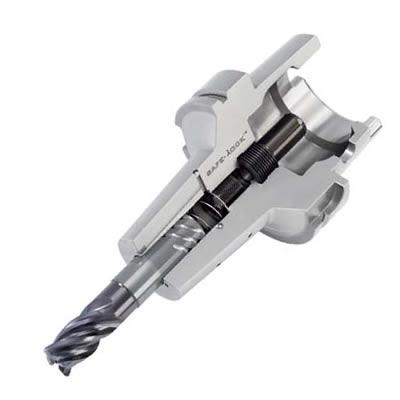 Walter USA LLC has announced the availability of the Haimer Safe-Lock clamping system with specially modified Walter Prototyp solid carbide mills.
The problem of pull-out or micro-creep is prevalent in high speed machining applications and when working with difficult to machine materials like Titanium and Inconel. Conventional chucks are not fully capable of preventing this effect, not even when using the highest clamping forces. That's where the Safe-Lock clamping solution comes"
With the aid of special spiral grooves ground into the tool shank, the Safe-Lock's carrier elements, in addition to friction locking in the chuck, provide positive locking as well as high precision clamping. Also, Safe-Lock's optional cooling channels, included with all Safe-Lock shrink fit chucks, bring coolant directly to the cutting edge, extending tool life by as much as 100 percent. As a result of these factors, solid carbide end mills from Walter Prototyp with Safe-Lock allow users to benefit from maximum cutting parameters, and provide for the highest possible cost efficiencies that the tool and machine have to offer. This is true both for roughing as well as for finishing operations. Walter Prototyp end mills with Safe-Lock, available in 12 to 40mm diameters are able to increase productivity, provide run out accuracy, boost tool life and ensure extremely high levels of precision while drastically reducing scrap—vital for expensive workpieces so often encountered in high speed, high performance machining.
Solid carbide end mills from Walter Prototyp with Safe-Lock grooves are available through the Walter Xpress Service. This service was created for a defined range of special tools, where the delivery times are a maximum of two weeks.
Related Glossary Terms
chuck


chuck

Workholding device that affixes to a mill, lathe or drill-press spindle. It holds a tool or workpiece by one end, allowing it to be rotated. May also be fitted to the machine table to hold a workpiece. Two or more adjustable jaws actually hold the tool or part. May be actuated manually, pneumatically, hydraulically or electrically. See collet.

coolant


coolant

Fluid that reduces temperature buildup at the tool/workpiece interface during machining. Normally takes the form of a liquid such as soluble or chemical mixtures (semisynthetic, synthetic) but can be pressurized air or other gas. Because of water's ability to absorb great quantities of heat, it is widely used as a coolant and vehicle for various cutting compounds, with the water-to-compound ratio varying with the machining task. See cutting fluid; semisynthetic cutting fluid; soluble-oil cutting fluid; synthetic cutting fluid.

shank


shank

Main body of a tool; the portion of a drill or similar end-held tool that fits into a collet, chuck or similar mounting device.