September 13, 2012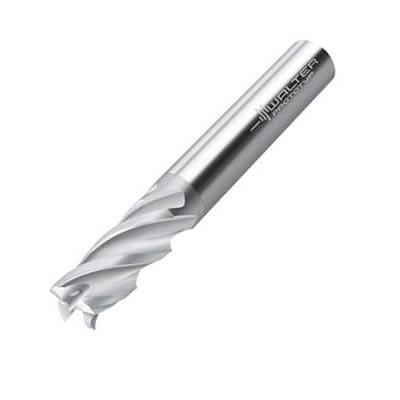 Walter USA LLC has introduced the Walter Prototyp Proto-max Inox, a solid carbide end mill that typically boosts stainless steel machining performance by as much as 50 percent when compared with conventional, universal solid carbide end mills. This dramatic performance jump is due to the fact that Walter optimized Proto-max Inox for machining ISO M materials such as stainless steel with features like a four-flute cutter with two internal helical coolant channels for optimized coolant delivery and efficient chip removal, a problem often associated in many stainless steel machining applications. The mills ensure a high degree of process stability and increased tool life while simultaneously boosting productivity.
In addition, the Proto-max Inox features a new TAA coating with a TiAlN base and an optimized micro geometry to increase wear resistance and protect against edge build up. It also provides for a smooth workpiece finish. Another key feature is that with its unequal helix angles (35 and 38 degrees) this new end mill is able to achieve low vibration operation, boosting tool life and significantly improving surface quality.
These features make the Proto-max Inox an ideal choice whenever high machining rates and superior surface finishes in the machining of materials from the ISO M group are priorities. This includes numerous applications in general mechanical engineering, as well as in medical and food processing equipment, as well as in aerospace engineering. The mills come in diameter ranges from 6-20mm, with or without corner radii.
To aid busy users in rapid tool selection, Walter has inscribed the code letter M on the shank of the tool. This stands for the ISO M material group, allowing the users to immediately identify the primary application of the tool.