March 01, 2011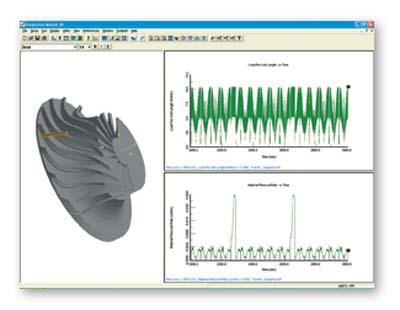 Third Wave Systems has announced the upcoming release of Production Module version 5.9. Production Module is NC program optimization software that integrates workpiece material models, cutting tool geometries, and machine dynamics to predict and display previously-unattainable machining performance indicators. By plotting factors such as force, temperature, and spindle power along the entire toolpath, Production Module enhances engineering expertise while helping companies identify processes that machine dramatically faster and promote improved tool life and part quality.
New and/or enhanced features to be included:
User defined tool profiles for complex tools (3D)
Optimization settings archiving for easy process replication (3D)
Feedback system for better detection of errors and unsupported commands (2D)
Split setup windows to better match Production Module 3D workflow (2D)
Force calculation and optimization speed-ups (2D)
APT code support (2D)
Multiple tool offset definition (2D)
Related Glossary Terms
numerical control ( NC)


numerical control ( NC)

Any controlled equipment that allows an operator to program its movement by entering a series of coded numbers and symbols. See CNC, computer numerical control; DNC, direct numerical control.

toolpath( cutter path)


toolpath( cutter path)

2-D or 3-D path generated by program code or a CAM system and followed by tool when machining a part.