June 01, 2011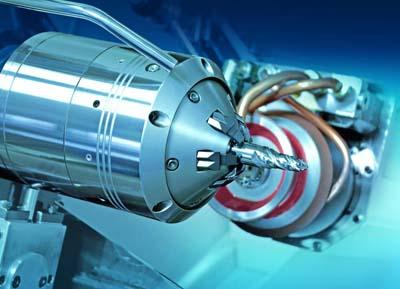 SCHUNK presents PRISMO, the new holder for automated tool and cutter grinding. Unique features are the ability to clamp diameters between five and 20mm, without additional components or time-consuming changeovers, and high repeat accuracies of less than 0.005mm. These are ideal conditions for automated manufacturing of small batch sizes of all cutting tool types.
The principle function is based on a precise clamping sleeve with prism guidance. Each of the five chuck jaws are guided by a double prism. A third prism is on the clamping face, which directly contacts the tool shank. The holder always adjusts itself to the individual tool diameter. This is an important difference versus conventional solutions, where the clamping bore is cylindrically ground. Even deep hole drills and fluted tools can be clamped precisely with the PRISMO. During the clamping operation, the five hardened and coated chuck jaws intermesh. The basic sleeve and the robust design provide a high stiffness to the holder.
At an overhang length of 2.5 x D with a tool diameter of 20mm, the PRISMO provides a repeat accuracy of less than 0.005mm. In order to avoid contamination and to offer permanently high precision, the PRISMO is rinsed with clean oil during the grinding operation. Regardless of which tool diameter is to be machined, the X-axis of the grinding toolholder remains unchanged. All the chuck jaws actuate on the identical axial position. Time-consuming additional programming and the interference due to incorrect axis offsets are problems of the past.