February 01, 2015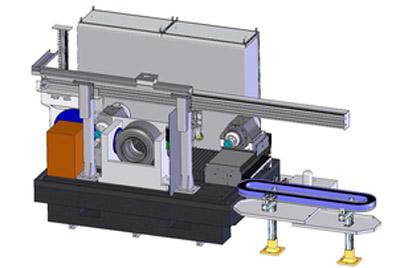 Available from German Machine Tools of America (GMTA), the Präwema SynchroFine 205 HS gear honing machine features direct-driven, digitally controlled spindles for the tool and the workpiece, enabling precise, rigid synchronization. The Präwema Honing gear finishing process produces quality comparable to grinding results for spur and helical gears, as well as shafts. The machine's software checks the stock allowance and workpiece runout and then optimizes the X-axis approach distance. Measuring the workpiece does not affect the cycle time and the process can reduce cycle times by 3 to 5 seconds.
The machine features a pick-up design to enable automation. The workpieces and dressing tools are loaded and unloaded by the workpiece spindle. The large X-axis travel enables placement of additional stations adjacent to the loading/unloading station inside the machine, such as a two-flank roll-checking device. External robots and conveyor systems can also be integrated by GMTA engineering.
The honing machine is constructed on a natural granite bed to promote stability and control thermal fluctuations. The X and Z axes are equipped with linear motor drives. The cutting tool is clamped with a hydraulically operated system and the tool spindle can be swiveled into a vertical position, enabling easy access. Additional options are available for machining oversized drive shafts as long as 850mm and the Präwema SynchroFine 205 HS-D model, equipped with two spindles, is offered for further reduction of cycle times.
Related Glossary Terms
dressing


dressing

Removal of undesirable materials from "loaded" grinding wheels using a single- or multi-point diamond or other tool. The process also exposes unused, sharp abrasive points. See loading; truing.

grinding


grinding

Machining operation in which material is removed from the workpiece by a powered abrasive wheel, stone, belt, paste, sheet, compound, slurry, etc. Takes various forms: surface grinding (creates flat and/or squared surfaces); cylindrical grinding (for external cylindrical and tapered shapes, fillets, undercuts, etc.); centerless grinding; chamfering; thread and form grinding; tool and cutter grinding; offhand grinding; lapping and polishing (grinding with extremely fine grits to create ultrasmooth surfaces); honing; and disc grinding.

linear motor


linear motor

Functionally the same as a rotary motor in a machine tool, a linear motor can be thought of as a standard permanent-magnet, rotary-style motor slit axially to the center and then peeled back and laid flat. The major advantage of using a linear motor to drive the axis motion is that it eliminates the inefficiency and mechanical variance caused by the ballscrew assembly system used in most CNC machines.