October 02, 2019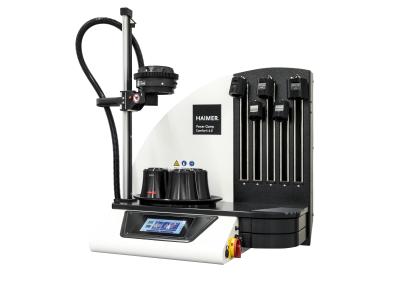 How can we make an outstanding product even better? By meeting the needs of Industry 4.0 – not in the future, but now. With the Power Clamp Comfort i4.0 shrink-fit system, Haimer is setting new standards regarding digital connectivity and communication of tools and machines for the new world of manufacturing.
Each Power Clamp Comfort i4.0 comes with a 7" durable touch display and an intuitive software package that provides simplified usability. Features like illustrated functions, clear symbols, larger fonts and a robust color display make for an extremely user-friendly interface. This machine is network compatible and Industry 4.0-ready for communication on the shop floor.
Standard equipment includes a rotary table with three stations, a cooling manager and single spider chuck support for the rotary table. Options include a laser scanner to read and automatically set the shrinking parameters via Data-Matrix codes now incorporated on all Haimer shrink chucks. Another option is the HD coil for shrinking of heavy-duty shrink chucks up to 2" in diameter.
Related Glossary Terms
chuck


chuck

Workholding device that affixes to a mill, lathe or drill-press spindle. It holds a tool or workpiece by one end, allowing it to be rotated. May also be fitted to the machine table to hold a workpiece. Two or more adjustable jaws actually hold the tool or part. May be actuated manually, pneumatically, hydraulically or electrically. See collet.
Additional Products from Haimer USA LLC