September 11, 2017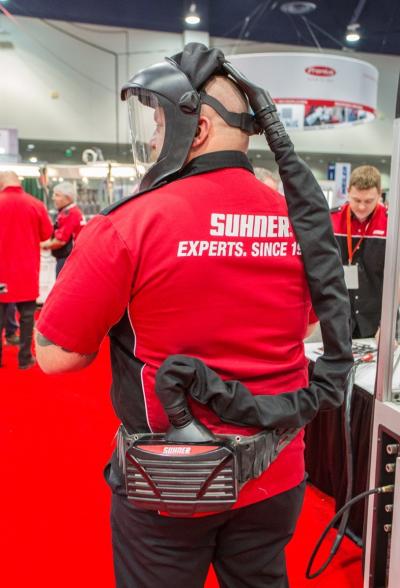 Suhner Industrial Products announces its new Power Air Respiratory System e3000, specially designed for operator protection during high-grit grinding and polishing operations. The system, in combination with the e3000 lightweight helmet from Suhner, offer respiratory protection from the effects of smoke, dust and vapor, as well as operator comfort.
Features include a variable air flow rate from 150 to 250 Nl/min. to enhance comfort and help prevent fatigue for the operator. The high flow rate of 250 l/min. provides comfort and helps increase productivity, even in high temperature conditions. The e3000H helmet offers a 180° panoramic view, plus its light weight allows the worker to wear it easily for a full shift.
The system also features a high-efficiency battery pack with operating times of up to 20 hours. A prefilter and large surface particle filter help prevent the filter from clogging. This feature, along with routine filter replacement, helps optimize the total operating cost.
Related Glossary Terms
fatigue


fatigue

Phenomenon leading to fracture under repeated or fluctuating stresses having a maximum value less than the tensile strength of the material. Fatigue fractures are progressive, beginning as minute cracks that grow under the action of the fluctuating stress.

grinding


grinding

Machining operation in which material is removed from the workpiece by a powered abrasive wheel, stone, belt, paste, sheet, compound, slurry, etc. Takes various forms: surface grinding (creates flat and/or squared surfaces); cylindrical grinding (for external cylindrical and tapered shapes, fillets, undercuts, etc.); centerless grinding; chamfering; thread and form grinding; tool and cutter grinding; offhand grinding; lapping and polishing (grinding with extremely fine grits to create ultrasmooth surfaces); honing; and disc grinding.

polishing


polishing

Abrasive process that improves surface finish and blends contours. Abrasive particles attached to a flexible backing abrade the workpiece.