July 01, 2014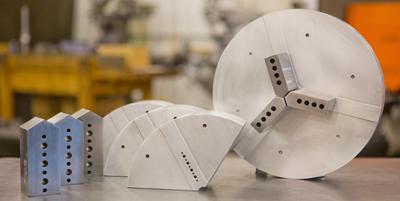 Dillon pin-location top jaws hold small and delicate parts, such as those often machined using air chucks, firmly without damaging or marring their surfaces. The jaws are milled with close tolerances to correctly fit the chuck.
The jaws can be customized per customers' requests. Two types of jaws are offered: blank or (blocks) top jaws in 1018 steel or 6061 aluminum, or full circled or (pie shaped) top jaws in A356 aluminum, 6061 aluminum or 1018 steel as standard materials. Other materials per customer specification can also be used. They are ideal for all types of air chucks, including Northfield, Microcentric and more. Typically available with production lead times of 3 days or less.
Related Glossary Terms
chuck


chuck

Workholding device that affixes to a mill, lathe or drill-press spindle. It holds a tool or workpiece by one end, allowing it to be rotated. May also be fitted to the machine table to hold a workpiece. Two or more adjustable jaws actually hold the tool or part. May be actuated manually, pneumatically, hydraulically or electrically. See collet.