June 01, 2011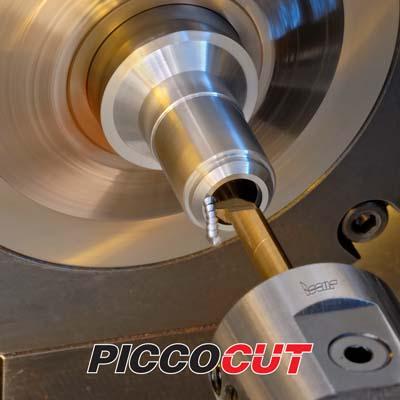 ISCAR continues to create fresh solutions for difficult ID machining problems through strategic additions to its popular PICCO family of solid carbide inserts. The company's latest innovations attack three specific trouble spots in ID machining: bottoming of blind holes, reaching deeper into high-aspect bores and reducing mismatch between matching tool diameters and bore sizes. The better the match between tool and hole geometry, the more efficiently the operation will run. Ideally, both diameters and lengths should be matched.
To improve bottom flatness in blind holes, the new PICCO 050.20 insert features a higher 20°Frontal clearance angle, up from 8 degrees. The added clearance creates more room to eliminate chip jamming and minimize re-cutting of chips. The inserts are available in 4.0 and 5.0mm shank diameters for bore diameters of 2.0mm and up. For high-aspect bores with at least 6.8mm diameter, a new style PICCO 060 chamfering insert now comes with a long-reach 40mm shank, providing more than twice the reach-in as the existing 19mm shank.
A new 6mm insert has also been added to the line, enabling better size matches in the 5 to 6.8mm diameter line. Three additional bore diameters also widen the tool selections available in the PICCO 050 family, which covers the bore diameter range of 0.5 to 4.0mm. New diameters are 0.8, 2.5 and 3.5mm. All PICCO 050 internal turning and chamfering inserts come in several shank lengths, to optimize the size match between tool and hole.
All ISCAR PICCO tools come in left- and right-hand styles and are available in grade IC900, the most versatile PVD coated carbide grade. The thin PVD coating protects the cutting edge while preserving the optimal cutting geometry built into the substrate.
Additional Products from Iscar USA