June 01, 2015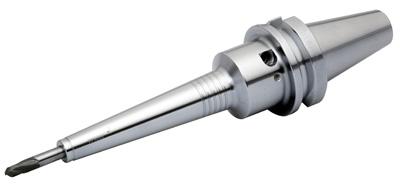 NT Tool offers its high-accuracy hydraulic chucks in the slim-bodied PHC-S holder ideal for use in tight spaces. These new PHC-S holders combine the stability and precision of NT's dual clamping-point system with the access into narrow workpieces previously only possible with shrink fit holders.
Like all NT hydraulic chucks, the PHC-S model provides 3µm accuracy. The oil chamber around the chucking sleeve absorbs cutting vibrations in a way that the solid metal body of shrink fit holders cannot, which allows for consistently higher accuracy and a smoother work surface. An electro-magnetic rust proof coating, standard for most NT holders, ensures that this accuracy is maintained throughout the life of the holder.
Setup is quick and easy, requiring nothing more than a one-handed hex wrench to clamp the cutting tool. This allows for minimal downtime and eliminates the risk of burn injuries associated with shrink fit chucking, making the PHC-S a compelling alternative for all tight-space applications.
The PHC-S is available in HSK, CAT (standard and two-face contact), BT (standard and two-face contact), and UTS shank styles. They are offered in both inch sizes (¼" to 1" in diameter) and metric sizes (6mm to 25mm), and custom sizes are readily accommodated.
Related Glossary Terms
shank


shank

Main body of a tool; the portion of a drill or similar end-held tool that fits into a collet, chuck or similar mounting device.