October 10, 2019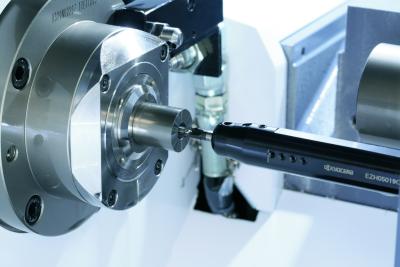 Kyocera Precision Tool Inc. offers the new PF chipbreaker for microboring applications. The PF chipbreaker's low cutting force design and anti-welding properties provide excellent chip control and surface finish in a variety of applications.
With a minimum cutting diameter of 5 mm, the PF chipbreaker works great when paired with Kyocera's EZ Bar PLUS boring bars.
Related Glossary Terms
boring


boring

Enlarging a hole that already has been drilled or cored. Generally, it is an operation of truing the previously drilled hole with a single-point, lathe-type tool. Boring is essentially internal turning, in that usually a single-point cutting tool forms the internal shape. Some tools are available with two cutting edges to balance cutting forces.

chipbreaker


chipbreaker

Groove or other tool geometry that breaks chips into small fragments as they come off the workpiece. Designed to prevent chips from becoming so long that they are difficult to control, catch in turning parts and cause safety problems.

cutting force


cutting force

Engagement of a tool's cutting edge with a workpiece generates a cutting force. Such a cutting force combines tangential, feed and radial forces, which can be measured by a dynamometer. Of the three cutting force components, tangential force is the greatest. Tangential force generates torque and accounts for more than 95 percent of the machining power. See dynamometer.