May 31, 2019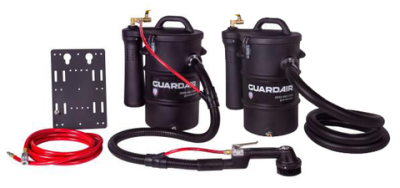 Guardair Corp. has developed two innovative vacuums for safely cleaning off workers and their workspaces in environments with combustible materials. Both the popular Personnel Cleaning Station and Machine Vac are now available in non-electrical discharge (NED) versions. Constructed from electrically conductive components that suppress the buildup of static charges, the Personnel Cleaning Station NED and the Machine Vac NED are suitable for vacuuming combustible materials commonly found in manufacturing, chemical and food processing facilities.

Powered by standard shop compressed air, both units feature a high-efficiency, pneumatic vacuum and a 5.5-gallon static conductive container. With no electric motor to burn out, these units are virtually maintenance-free. Both units can be mounted on a wall or other vertical surface to save valuable, shop-floor space.

Designed to clean combustible dust, powders, and chips off worker clothing and skin, the Personnel Cleaning Station NED features a static conductive vacuum hose and on-demand air-agitator brush attachment. Thumb switch operated, the air-agitator lifts particles airborne for transport to the container.

Designed for dry applications, the Machine Vac NED features a static conductive vacuum hose and aluminum crevice tool to safely vacuum combustible materials from machinery, equipment and workspaces.

OSHA estimates that over 30,000 U.S. facilities are at risk for incidents related to combustible materials. "Motors or switches on electric vacuums often generate arcs, or sparks," says Tom Tremblay, president of Guardair. "And these can ignite an explosion in a combustible dust-filled location." By contrast, Guardair pneumatic NED vacuums produce no arcs or sparks, besides suppressing static electric charges, thereby offering a safe alternative to conventional, electric powered vacuums.