September 30, 2019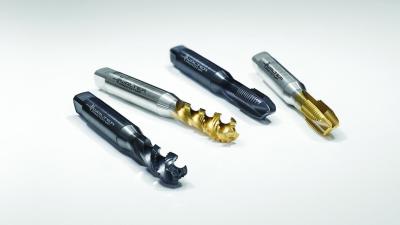 Walter has expanded its productive and cost-effective Walter Perform lineup of TC115/TC216 taps with an array of new sizes, giving these highly flexible taps an even wider range of application in a variety of materials. They provide an excellent means of cost savings, especially with small and medium batch sizes. New dimensions for the line include a complete lineup of UNF threads with DIN/ANSI standard. The taps for metric threads have also been expanded to include M16, M2 and M2.5 for both blind and through hole taps.
TC115 (blind-hole) and TC216 (through-hole) taps tackle material ranging from steel to aluminum (ISO material groups P, M, K and N), and thanks to this versatility they can help save on inventory costs by reducing the number of taps needed. The TC115 blind-hole tap has a 45° helix angle (for thread depth of 3×D) and a C-form chamfer. The TC216 through-hole tap features a spiral point for forward chip evacuation and a thread depth capability of 3.5×D. Both taps have HSS-E bodies and are available with either TiN or vaporized coating.
The Perform lineup is one of three designations to Walter product technology—Perform, Advance, Supreme. Perform tools are products that provide an economical solution with focused importance on price. The Advance tools are products which are efficiently balanced between price and performance. The Supreme designation indicates the highest level of technology and performance available.