August 01, 2014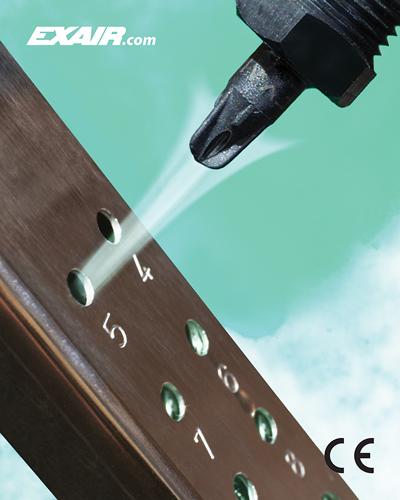 EXAIR Corp.'s new PEEK Pico Super Air Nozzle reportedly has been engineered to produce the highest performance attainable from a tiny nozzle. It delivers one of the smallest, most precise blowoffs available with an efficient, high volume, high velocity airflow, according to the company. The overall length of the air nozzle measures only 0.63 inches (16mm) with a diameter of only 0.20 inches (5mm), permitting installation in tight spaces.
Its PEEK thermoplastic construction provides self-lubricating qualities with a low coefficient of friction to produce non-marring protection for sensitive materials. PEEK thermoplastic has excellent chemical resistance and can withstand many harsh environments found in chemical, plating, etching and metal cleaning processes and thrives in seawater environments. The PEEK Pico Super Air Nozzle is suitable for blowoff, cooling and drying applications located in general industrial or corrosive environments.
The Model 1109-PEEK Pico Super Air Nozzle provides a narrowly focused air pattern. High amplification of airflow and a strong blowing force of 5.0 ounces (142 grams) are achieved with minimal air consumption of 4.9 SCFM at 80 PSIG. EXAIR's PEEK nozzles have a high temperature limitation of 320°F (160 degrees C). Safe operation is assured since the airflow of the Pico Super Air Nozzle cannot be blocked, which meets the OSHA standard for dead-end pressure 29 CFR 1910.242(b). Sound level is very low at 68 dBA and meets OSHA noise requirement 29 CFR 1910.95(a), as well as being CE compliant.
The Pico Super Air Nozzle is designed to easily replace existing wasteful nozzles or open pipes. The compressed air inlet is male M5 X 0.5. The Pico Super Air Nozzle is also available in Type 316 Stainless Steel and with NPT threading. Price starts at $29.
Related Glossary Terms
threading


threading

Process of both external (e.g., thread milling) and internal (e.g., tapping, thread milling) cutting, turning and rolling of threads into particular material. Standardized specifications are available to determine the desired results of the threading process. Numerous thread-series designations are written for specific applications. Threading often is performed on a lathe. Specifications such as thread height are critical in determining the strength of the threads. The material used is taken into consideration in determining the expected results of any particular application for that threaded piece. In external threading, a calculated depth is required as well as a particular angle to the cut. To perform internal threading, the exact diameter to bore the hole is critical before threading. The threads are distinguished from one another by the amount of tolerance and/or allowance that is specified. See turning.