January 18, 2016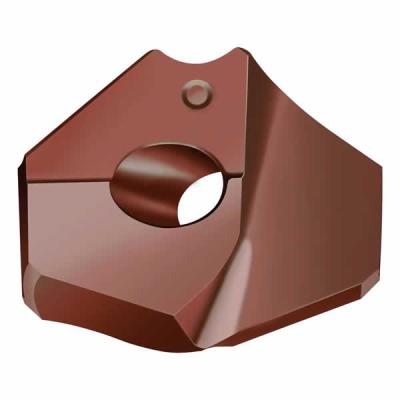 In a news release issued Jan. 16, Walter USA LLC, Waukesha, Wis., unveiled its P6005-WKK45C point drill insert that reportedly brings new levels of performance and cost effectiveness to drilling cast materials (ISO K) as well as other materials. The P6005-WKK45C insert design features a new high-performance geometry for maximum productivity in cast iron materials, and 110° prismatic seat for minimal run-out and stable positioning. Chamfered corners are said to enhance stability in abrasive conditions, plus improve resistance to wear.
The P6005-WKK45C point drill insert also features a new high-performance coating developed for increasing wear resistance with cast materials. This thicker coating improves shock resistance and offers enhanced toughness due to its multi-layer structure, which provides alternate layers of hard wear, heat and abrasive resistance, according to Walter.
The inserts, which are color-coded for easy selection and wear detection, have shown tool life increases of up to 100 percent in field tests, as well as increased process reliability and improved machine utilization due to reduced tool change, according to the company.
Related Glossary Terms
abrasive


abrasive

Substance used for grinding, honing, lapping, superfinishing and polishing. Examples include garnet, emery, corundum, silicon carbide, cubic boron nitride and diamond in various grit sizes.

wear resistance


wear resistance

Ability of the tool to withstand stresses that cause it to wear during cutting; an attribute linked to alloy composition, base material, thermal conditions, type of tooling and operation and other variables.