April 01, 2014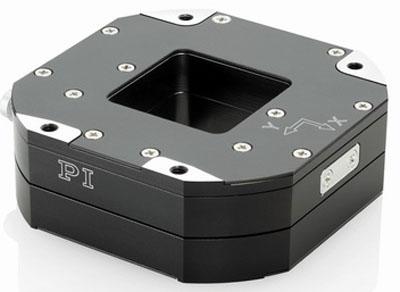 PI's P-763 XY nanopositioner is a new affordable addition to PI's range of piezo stage solutions. This compact two-axis nanopositioning system is geared towards cost-sensitive applications in OEM and research where very high precision, high throughput and fast step& and settle in a few milliseconds are required. Nevertheless, the stage also provides excellent long term stability for static positioning applications, due to its direct-metrology capacitive position feedback.
The P-763.22C nanopositioning stage is a multilayer-piezo driven stage, providing sub-nanometer resolution and rapid response for fast step and settle or high speed scanning applications. This compact flexure guided stage has a footprint of only 70x70mm while providing a 30x30mm aperture. With a large travel range of 200x200µm this piezo positioning system is ideal for demanding applications such as image-stabilization, micro-lithography, nano-alignment, surface metrology, super-resolution microscopy and bio-nanotechnology and photonics and datacomm.
An advanced digital-servo controller with 24-bit resolution and ultra-low noise DAC converters provides excellent closed-loop performance and all motion and servo parameters can be user-optimized on the fly. Communication interfaces via Ethernet, USB and RS-232 are available. Exceptional reliability is guaranteed by PI's Mars-Rover tested ceramic-insulated piezo actuator technology, which has passed 100 billion cycles of life tests without performance degradation.
Related Glossary Terms
metrology


metrology

Science of measurement; the principles on which precision machining, quality control and inspection are based. See precision machining, measurement.