November 19, 2021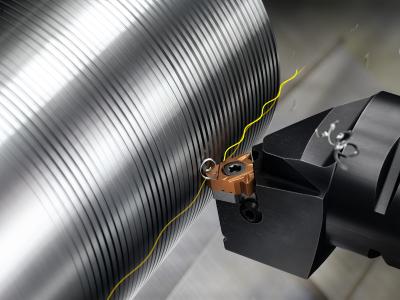 Sandvik Coromant has unveiled a new machining method that enables controlled chip breaking in thread turning applications. Launched within the existing CoroPlus® Tool Path software,OptiThreading™ is a new software module that will help manufacturers overcome one of the most significant issues within thread turning — the risk of chip jams and their associated downtime.
CoroPlus® Tool Path software offers programming support for external and internal thread turning operations. The software generates NC codes based on cutting data parameters to secure the correct number of passes with evenly distributed cutting forces for optimal productivity, tool life and process security. Now, to enhance the software further, Sandvik Coromant has introduced a new module.
A common problem in thread turning is that chips coil around robots, chucks, tools and components. The chips can also get caught in conveyors, causing damage and equipment downtime. Successful chip control is the key to good component quality when thread turning.
OptiThreading™ has been designed with these challenges in mind. The module is available as part of a subscription to the CoroPlus® Tool Path, and is developed specifically for CoroThread® 266 tools and inserts.
Using the method and software, manufacturers can fully optimize their thread turning operations. As part of the solution, CoroPlus® Tool Path helps users develop optimized OptiThreading™ tool paths that specifically overcome the challenge of chip control. This is achieved by offering tool paths that deliver controlled, oscillating movements for interrupted cuts that go in and out of the cut on all passes except the last one.
Supporting this cutting method delivers multiple benefits. Using OptiThreading™ eliminates long chips that damage a component's surface and interfere with the cutting zone, improving component quality. It also results in less manual work to remove long chips jamming the tool, the component or the chip conveyor, resulting in fewer unplanned machine stops. OptiThreading™ also makes it possible to increase cutting speeds for shorter cycle times and improved productivity.
There are several reasons why OptiThreading™ and the CoroThread® 266 are well-matched threading partners. OptiThreading™ creates high cutting forces and therefore needs a tool that can withstand them. The CoroThread® 266 has an iLock interface that offers exceptional stability for insert indexing, making it capable of handling extreme forces. The tool is also available in a wide variety of assortments, with a selection of grades and geometries that cover most materials and applications. Together, the software and hardware solutions deliver secure, precise threading which is not hampered by poor chip control.
"OptiThreading™ solves the biggest issue within thread turning, which is chip control," explained Hampus Jemt, Product Manager at Sandvik Coromant. "With CoroPlus® Tool Path, we were already offering software for optimized turning, as well as a robust tooling solution in the form of CoroThread® 266. Now, as we introduce OptiThreading™, we're able to help customers overcome one of their biggest challenges when thread turning."
"We understand the issues facing the machine shop. Pressure to get the job done quicker makes unplanned downtime a nightmare scenario, so avoiding the perils of chip control is crucial. Having this all-embracing solution as part of our offering means we can help manufacturers adopt a new threading methodology that not only eases their worries regarding chip control, but also helps them produce higher quality components."
Related Glossary Terms
numerical control ( NC)


numerical control ( NC)

Any controlled equipment that allows an operator to program its movement by entering a series of coded numbers and symbols. See CNC, computer numerical control; DNC, direct numerical control.

threading


threading

Process of both external (e.g., thread milling) and internal (e.g., tapping, thread milling) cutting, turning and rolling of threads into particular material. Standardized specifications are available to determine the desired results of the threading process. Numerous thread-series designations are written for specific applications. Threading often is performed on a lathe. Specifications such as thread height are critical in determining the strength of the threads. The material used is taken into consideration in determining the expected results of any particular application for that threaded piece. In external threading, a calculated depth is required as well as a particular angle to the cut. To perform internal threading, the exact diameter to bore the hole is critical before threading. The threads are distinguished from one another by the amount of tolerance and/or allowance that is specified. See turning.

turning


turning

Workpiece is held in a chuck, mounted on a face plate or secured between centers and rotated while a cutting tool, normally a single-point tool, is fed into it along its periphery or across its end or face. Takes the form of straight turning (cutting along the periphery of the workpiece); taper turning (creating a taper); step turning (turning different-size diameters on the same work); chamfering (beveling an edge or shoulder); facing (cutting on an end); turning threads (usually external but can be internal); roughing (high-volume metal removal); and finishing (final light cuts). Performed on lathes, turning centers, chucking machines, automatic screw machines and similar machines.