March 30, 2021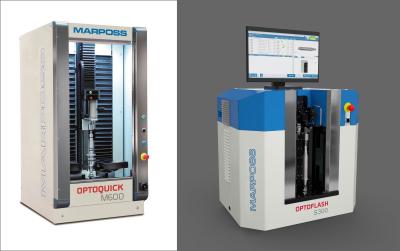 Marposs, a world leader in measurement, inspection and test technologies, has announced the enhancement of its software that is embedded within its optical technology testing systems. The new user-friendly software is designed with an intuitive interface that allows anyone to use and configure new measurements on an Optoquick or Optoflash system, helping build even more efficiency into the process. All measurements are archived for retrieval by the smart search function.
The company's Optoquick flexible solution, featuring both optical and contact gauging, is suited for high precision gauging controls on cam, crank, gear shafts and drive shafts. It provides a fast and precise quality control solution directly next to the machine tool on the manufacturing floor. This helps speed up the work-in-progress operations and eliminate time wasted in moving parts across the shop floor. It is available in five different models based upon the part size being measured.
The Optoflash is a precision measuring solution based on 2D optical technology that provides fast and extensive quality control of small-size shafts and fasteners. Optoflash features an industrial grade architecture, making it well-suited for both the laboratory and the production environment. It is currently available in four models, all suited for the precision mechanical device and medical industries.
Related Glossary Terms
computer-aided manufacturing ( CAM)


computer-aided manufacturing ( CAM)

Use of computers to control machining and manufacturing processes.

quality assurance ( quality control)


quality assurance ( quality control)

Terms denoting a formal program for monitoring product quality. The denotations are the same, but QC typically connotes a more traditional postmachining inspection system, while QA implies a more comprehensive approach, with emphasis on "total quality," broad quality principles, statistical process control and other statistical methods.