November 06, 2018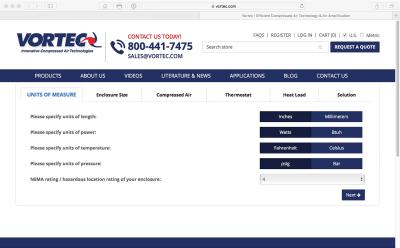 Vortec has updated their online heat load calculator, allowing users to determine cooling requirements for their specific enclosure. The new tool, available at www.vortec.com/heatload/calculator allows users to input enclosure dimensions, compressed air inlet temperature and pressure, current cabinet temperatures, worst case ambient temperature and whether the enclosure is in direct contact with sunlight (and enclosure color).
Users select units of measure for length (inches or millimeters), power (watts or BtuH), temperature (Fahrenheit or Celsius), and pressure (psig or bar) as well as NEMA rating required. The Heat Load Calculator then calculates the total heat load in the enclosure and suggests a Vortec enclosure cooler suitable for the application. The heat load calculator can generate a PDF of the results, providing users with all information required about the cooler in a sleek, easy to share format.
This new online tool is suitable for a range of industries and applications, including industrial/manufacturing, food, chemical, water, wastewater and other processing environments, oil refining and petrochemical processing, and others that have become dependent on microprocessors, PLCs and VFDs.
Vortex Tubes convert compressed air to a low-pressure cold air source to keep electronic enclosures and panel components protected so they can operate precisely. A compressed air stream enters the vortex tube where it spins rapidly, splitting into hot and cold air streams. Most Vortec Enclosure Cooler models are thermostatically controlled to regulate cabinet temperatures within a specified range.
With low initial cost and lower maintenance costs compared to air conditioners, fans, or thermoelectric coolers, Vortec technology is an essential part of many of the hottest and dirtiest industries, including refineries and petrochemical facilities. With trouble-free operation in ambient temperatures up to 175º F (80º C), Vortec coolers prevent costly shutdowns and massive production losses.