April 12,2012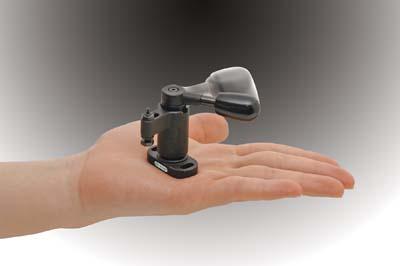 Fixtureworks offers an expanded lineup of Imao "One-Touch" style clamps with the addition of higher clamping force, compact and mini-sized selection. Fixtureworks offers the swing style mini clamps with both clockwise and counter-clockwise clamping actuation. The new designs include swing clamps with rotational or cam handles, swing clamps with torque control, plus retractable clamps with cam or adjustable handles, Clamping forces for the mini swing clamps w/rotating handle range from 247 to 787 lbs swing clamp w/cam handle from 180 to 629 lbs; torque control ranging from 517 or 1686 lbs; retractable w/cam handle of 150 and 247 lbs; and the swing clamp w/adjustable handle providing 449 or 1348 lbs clamping force.
These miniature clamps swing into position and clamp straight down onto the workpiece for direct downward pressure. The arm swings completely out of the way to allow for easy loading and unloading of the workpiece. The adjustable handle allows for greater clamping stroke and force. It also allows for tightening in limited space and can be moved out of the way to avoid interference.
With their compact size and style options, the mini-clamp lineup offers engineers a wide range of design flexibility for fixtures and workholding systems. Imao's One- Touch actuation system, workpiece loading/unloading is fast and simple and the clamps are ideal for repetitive clamping procedures.
All of the clamp components (except handle knobs) are produced from high quality steel, quenched, tempered and with black oxide finish. The adjustable contact screw position may be reversed, offering pinpoint pressure loads for heavy duty roughing operations, or to expand the load bearing area to protect workpiece surfaces and for light/medium duty processes.
Related Glossary Terms
black oxide


black oxide

Black finish on a metal produced by immersing it in hot oxidizing salts or salt solutions.

computer-aided manufacturing ( CAM)


computer-aided manufacturing ( CAM)

Use of computers to control machining and manufacturing processes.