November 05, 2021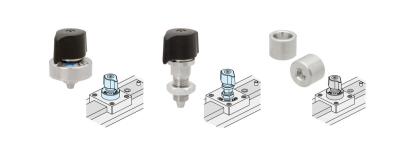 IMAO Fixtureworks, manufacturer and supplier of workholding components, offers a new lineup of One Touch Indexing Clamps for easy fastening and precision locating in a single operation where components slide or rotate into position. The tapered contact surfaces provide +/- 0.05 mm repeatability.
The quarter-turn knobs allow for quick locking and unlocking without the use of tools. The ON/OFF markings and perceptible "click" indicate the locked and unlocked states. Red indicator band is visible when fastener is in the OFF (unclamped) position.
The three-position versions feature coil spring pressure and includes a "MID" position on knob between the ON and OFF positions, allowing the plunger to snap into a hole when it slides into position. The spiral cam mechanism provides for high clamping forces (40 lbs) and a high allowable axial load (300 lbs).
The plungers can be used with precision tapered bushings for locating or a simple through-hole in a plate. The One Touch Indexing Clamps are available in flanged style to mount from the underside with three screws or a threaded style to mount in a tapped hole.
Specifications, CAD models, pricing and ordering are available online at www.fixtureworks.com. Customers can also request a quote or technical product assistance.