January 08, 2020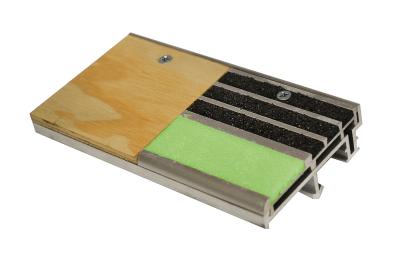 Wooster Products' new NITEGLOW treads with high-quality photoluminescent are ideal for exit path markings, steps and leading edge of landings when finding pathways in the dark is a necessity. This two-stage anti-slip stair nosing meets NYC Local Law 26, 2015 IBC, and 2015 IFC code compliance and is well suited for either new construction or retrofit interior stair applications.
Heat-treated corrosion resistant aluminum substrate and a nearly diamond-hard aluminum oxide filler assures long tread life under heavy pedestrian traffic. Bright, long lasting photoluminescent epoxy filler is free of hazardous and radioactive substances, extends uniformly throughout the filler. A high content of aluminum oxide abrasive provides traction and long service life, and is replaceable. Available in lengths to order, to a maximum of 8'0". Clean architectural lines ensure aesthetic appeal.
NITEGLOW® two-stage safety nosing includes a replaceable anti-slip abrasive-filled top insert, and a mill finish extruded aluminum base, with sure-hold anchor. Optional wood insert keeps aluminum base clean during initial construction. Protective tape also available.
Anti-slip filler includes approximately 60% virgin grain aluminum oxide abrasive which is available in contrasting colors. Photoluminescent epoxy binder is a fully cured resilient epoxy with a filler ratio of 16% minimum for enhanced cleanability.
Related Glossary Terms
abrasive


abrasive

Substance used for grinding, honing, lapping, superfinishing and polishing. Examples include garnet, emery, corundum, silicon carbide, cubic boron nitride and diamond in various grit sizes.

aluminum oxide


aluminum oxide

Aluminum oxide, also known as corundum, is used in grinding wheels. The chemical formula is Al2O3. Aluminum oxide is the base for ceramics, which are used in cutting tools for high-speed machining with light chip removal. Aluminum oxide is widely used as coating material applied to carbide substrates by chemical vapor deposition. Coated carbide inserts with Al2O3 layers withstand high cutting speeds, as well as abrasive and crater wear.

milling machine ( mill)


milling machine ( mill)

Runs endmills and arbor-mounted milling cutters. Features include a head with a spindle that drives the cutters; a column, knee and table that provide motion in the three Cartesian axes; and a base that supports the components and houses the cutting-fluid pump and reservoir. The work is mounted on the table and fed into the rotating cutter or endmill to accomplish the milling steps; vertical milling machines also feed endmills into the work by means of a spindle-mounted quill. Models range from small manual machines to big bed-type and duplex mills. All take one of three basic forms: vertical, horizontal or convertible horizontal/vertical. Vertical machines may be knee-type (the table is mounted on a knee that can be elevated) or bed-type (the table is securely supported and only moves horizontally). In general, horizontal machines are bigger and more powerful, while vertical machines are lighter but more versatile and easier to set up and operate.