November 12, 2022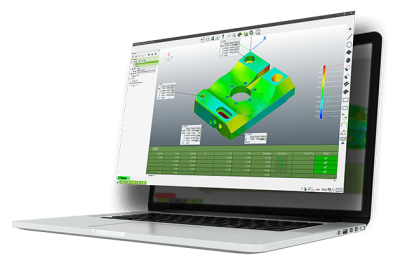 NextMeasure, the start-up measurement software company that puts the user experience first, has just launched their universal solution for probing and point cloud applications. Fast, reliable and compatible with all portable devices, the solution can be instantly downloaded for immediate efficiency, and is completely free for the first year.
NextMeasure is designed to be used by anyone, anywhere. The free download offers immediate access to inspection and measurement features. This game-changing 3D metrology software is dedicated to flexible inspection scenarios using portable measuring equipment.
Traditional measurement software is often tied to a company or brand making it complicated to swap in new equipment or change users. NextMeasure is created to overcome these industry obstacles with a flexible, solution that makes 3D quality control faster and more efficient.
Using NextMeasure is easy. Once the software is downloaded, anyone on the team is able point and click to take the required measurements. Because the solution is universal and works with all major sensors and portable measurement devices, upgrading and evaluating equipment is straightforward; multiple platforms can be evaluated from a single user environment.
Upholding their commitment to a premium user experience, best in class support is provided first, through a series of step-by-step tutorials, all available on the NextMeasure website, for rapid onboarding and integration within the team. Then, real-time online support with a direct chat option solves questions efficiently and effectively.
The NextMeasure Plus mode is available through a straightforward pay-per-use option of $5 per day that the system is accessed. Currently those charges are waived with the NextMeasure promo code: 1YEARDISCOVERY which offers access to all NextMeasure services completely free of charge!
Related Glossary Terms
metrology


metrology

Science of measurement; the principles on which precision machining, quality control and inspection are based. See precision machining, measurement.

quality assurance ( quality control)


quality assurance ( quality control)

Terms denoting a formal program for monitoring product quality. The denotations are the same, but QC typically connotes a more traditional postmachining inspection system, while QA implies a more comprehensive approach, with emphasis on "total quality," broad quality principles, statistical process control and other statistical methods.