April 01, 2010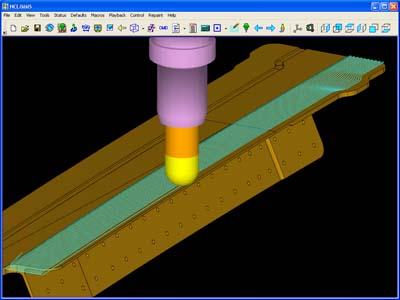 NCCS (Numerical Control Computer Sciences), the developer of NCL multiple-axis machining software for the aerospace, automotive and turbo machinery industry, introduces new capabilities for multiaxis machining within NCL to reportedly increasing overall productivity and toolpath efficiency. NCCS has enhanced the latest version of NCL, version 9.8, which includes Smart Forms to reduce programming time and increase tool path efficiency. Smart Forms has now been incorporated into NCL to help programmers program better and more efficient toolpaths, according to the company. This special application remembers the size and location of input dialogues to optimize the screen space, thereby making it easier to select graphical data and conform to the preferences of individual users. According to David Schultz, NCCS' manager of CAD/CAM applications, "NCL multiaxis machining software enhances the user's programming experience while increasing productivity. The Smart Forms feature gives users more flexibility and options with CAD/CAM programming."
Related Glossary Terms
toolpath( cutter path)


toolpath( cutter path)

2-D or 3-D path generated by program code or a CAM system and followed by tool when machining a part.