December 01, 2021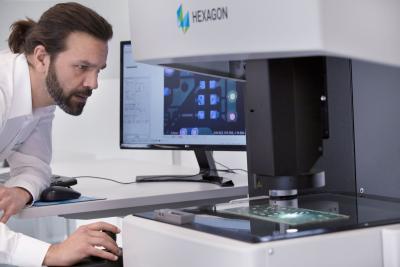 Hexagon's Manufacturing Intelligence division today announced the launch of MyQuality, a new contract inspection and programming services portal for quality, manufacturing, and design engineers. Hexagon's worldwide internal expertise in all things quality can now be leveraged to help customers maintain productivity as their business ebbs and flows. The on-line quoting system guides users throughout the process of procuring expert CMM/PCMM programming services for short-term initiatives or long-term projects. The MyQuality portal also provides a streamlined quoting process for contracting part inspection services from Hexagon's fully staffed Precision Centers located in eleven locations across the United States and Canada. Customers can check on each phase of the job with enhanced visibility throughout the project. More information on the MyQuality contract inspection and programming services portal can be found here.
Hexagon MyQuality provides access to the highest level of industry know-how provided by road tested applications engineers and inspection programmers serving a wide range of industries including aerospace, automotive, power generation, and medical. MyQuality was designed to build a strategic bridge between Hexagon and its customers to support changing quality plans or further automate part inspection programs. Contract programming services can include custom operator interfaces including touch-screens, interfaces for automation and customized logic routines, PC-DMIS inspection routines, barcode reader device integration, customized reporting, as well as programming parts with intricate geometries, difficult surfaces, or hard to reach features.
"As supply chains have become more complex, it is crucial for companies to have a reliable plan for their incoming and ongoing inspection or programming tasks, especially small-to-midsized manufacturers. MyQuality can be their new Plan A or Plan B based on the customer's shifting workflow, internal quality expertise or emergency situation," states Milan Kocic, Director of Business Development for Service and Support, North America. "There are many factors that can bottleneck a customer's production cycle. Hexagon is delivering a new alternative resource to ensure that quality is not one of them. MyQuality can help clients bring in new business and also maintain their status quo. A quote is only a few clicks away."
Related Glossary Terms
centers


centers

Cone-shaped pins that support a workpiece by one or two ends during machining. The centers fit into holes drilled in the workpiece ends. Centers that turn with the workpiece are called "live" centers; those that do not are called "dead" centers.