February 01, 2023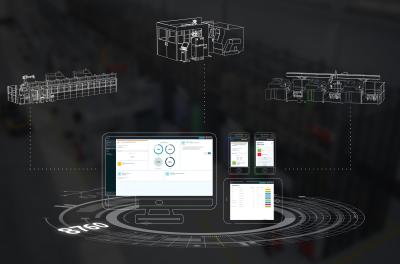 myFastems is a complementary service for all Fastems customers, providing more advanced digital services for customers using Fastems' Manufacturing Management Software (MMS) version 6 and above. Considered a software-as-a-service, myFastems supplies all the digital tools needed to support customers in making sure their systems are up and running 24/7 for continuous availability and productivity.
The digital service is built as a progressive web application for easy access via web browser on a PC, tablet, or smartphone. It can also be combined with other services such as 8760 support, preventive maintenance, and software maintenance agreements for optimized solutions throughout the entire life cycle. myFastems is available for all current Fastems automation systems from January 2023 and will be pre-installed for new systems in the future.
myFastems brings transparency to any Fastems systems service history and spare parts usage and includes a comprehensive system overview for connected systems, as well as alarm-based recovery instructions and support request tickets. The system overview provides an updated status of all connected Fastems systems, making it easy for users to stay on top of production activities and solve any issues in a timely manner. Support is only one click away. With all necessary system information readily available, Fastems' technical support can understand the situation on site better and faster, reducing critical downtime. Users are ensured their systems will be up and running as soon as possible.
For connected systems, myFastems provides more advanced digital services. These include access to alarm history, key performance indicators such as utilization rate, tools for advanced trouble shooting, and analyses via Incidents view. The Incidents groups system-wide alarms are based on the actual root cause and provide specific recovery instructions. Therefore, users can attempt to solve problems before contacting Fastems support for more flexibility. KPI analytics help monitoring system efficiency, enabling users to identify improvement opportunities based on measured data. myFastems users now have the visibility to both the past and the future of their Fastems systems.
myFastems services are under continuous development based on customers' feedback and needs. New features will be launched regularly, available to existing customers as soon as they are ready. Fastems will handle the installations automatically, ensuring up-to-date services for its users.
"myFastems is a very important step towards data-based offerings supporting our customers' systems availability and, therefore, productivity. It will be relieving for our customers to see systems running well from anywhere and have fast and easy access to technical support when it is needed," said Markku Lindeman, Fastems VP Services. "We will continue to expand myFastems, offering additional content as part of our Digital Services development. New data-driven services will provide features from expanded systems status to early warning and continuous analysis solutions to optimize systems uptime throughout the entire lifecycle."
Related Glossary Terms