December 10, 2019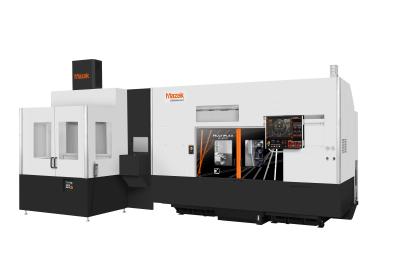 Mazak Corp. offers its Multiplex W-200Y Multi-Tasking CNC turning center, which can be paired with a GL150 gantry loader/unloader for continues part flow. The factory-supplied GL150 gantry loader/unloader provides fast workpiece exchanges to achieve approximately 20% shorter load/unload times thanks to a new rack-and-pinion design that allows for simultaneous motion of doors, chuck confirmations and linear rail motion to reduce overall tack times.
Additionally, a special continuous loop conveyor system – with specifications provided by Mazak's Automation Group – allows for uninterrupted production. At random intervals, finished parts can also be dropped off on an exit conveyor for full inspection. Designed for single-setup, mid to high-volume production and continuous operations,
the Multiplex W-200Y incorporates dual spindles and dual turrets, as well as milling tools with Y-axis capability. Since both spindles offer identical performance, part processing flexibility is greatly increased, and full 360-degree clamping units are incorporated into the integral spindles to further increase C-axis indexing accuracy.
Both the Multiplex W-200Y's main and second spindles accommodate 8" chucks and deliver 5,000 rpm and 20 hp of machining speed and power. With a combined 24- tool capacity, the left and right turrets feature 5,000-rpm rotary tool spindles.
For expanded part size versatility, the maximum swing and maximum machining diameter of the Multiplex W-200Y both measure 12.60" (320 mm), while maximum bar capacity is 2.6" (66 mm). A center partition also allows the Multiplex W-200Y to be utilized as two separate machining envelopes should the application require it.
Mazak's SmoothG CNC, with advanced high-performance functionality, makes programming the Multiplex W-200Y fast and easy. The machine is also MTConnect-ready for convenient networking.