July 14, 2016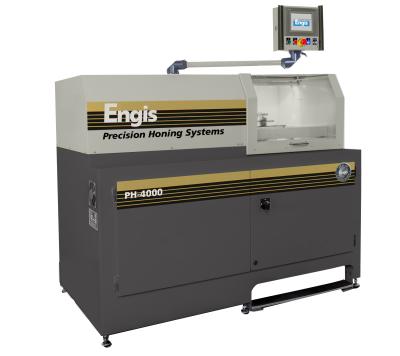 Engis Corp. has greatly increased its capacity with the addition of multi-stroke honing machines for small-to-medium batch sizes. Through a recent exclusive partnership with a long-established U.K.-based manufacturer, Engis now offers low-to-mid-volume equipment to complement its high-volume machines. The expansion gives customers a complete range of production choices from subcontract honing to prototyping to continuous process.
The companies' union reinforces Engis's far-reaching reputation in superabrasive finishing systems with that of an internationally renowned innovator in high-precision honing machines with specialization in bore finishing.
The equipment now available through Engis includes the CM-2000 compact honing machine and the PH-4000 and PH-5000 honing machines. The CM-2000 provides precision honing for one-off and batch production, as well as a choice of fully electronic semi-automatic or manual operation with two button-control panels. It also provides more machine (full servo control) for the price for producing parts with 5μ tolerance. The PH-4000 and PH-5000 offer programmable, precision-controlled production honing with a wide capability for small-to-medium volumes.
The honing machines surpass competing alternatives in versatility (every programming option is available for parts that need custom-stroke features), simplicity (fewer, more conversational programming screens and a 10-minute changeover allow even starting operators to produce parts with 5μ tolerance in one hour) and safety (the machines include interlocked guarding, as well as controls located outside the spindle area).
"Our new line of servo-controlled multi-stroke honing machines transforms decades of operator experience and feel into a repeatable, capable bore-finishing process," said Engis Product Specialist Mike Schmalz. "The force-monitoring feedback, sub-micron stone adjustment rate, multiple-cut parameter options and precise positioning of the stroking fixture make it possible to hone parts in their relaxed state. This leads to ultra-precision bore geometries, consistent surface finish, sub-micron size control and burr-free cutting."
Related Glossary Terms
conversational programming


conversational programming

Method for using plain English to produce G-code file without knowing G-code in order to program CNC machines.

fixture


fixture

Device, often made in-house, that holds a specific workpiece. See jig; modular fixturing.

tolerance


tolerance

Minimum and maximum amount a workpiece dimension is allowed to vary from a set standard and still be acceptable.