May 01, 2015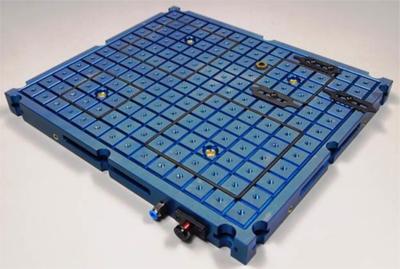 Mitee-Bite has introduced a universal multi-functional vacuum system. This system has several unique features to meet vacuum workholding needs. It can be powered with the company's vacuum generator (shop air) or vacuum pumps.
It has a textured face creating additional holding force through friction. Four vacuum ports allowing user to hold up to four small parts or one large part (ports can be plugged). Grid plate tapped with M6 threads allowing multiple workholding solutions. Includes four Sliding Stops and a package of fixture clamps (50206).
Multiple vacuum generators can be connected on each pallet if additional CFM is desired or simply swap over to our electric vacuum pump for a higher evacuation rate. Multiple Multi-Power Vac units can operate from (1) vacuum generator.
On the bottom of all Multi-Power Vac the company provides two bushings for its locating pins to easily place and remove the Multi-Power Vac with precise repeatability.
Also provided are six oversized washers machined below the bottom surface allows unit to be used for grinding applications on a magnetic chuck.
Additional Products from Mitee-Bite Products LLC