June 18, 2022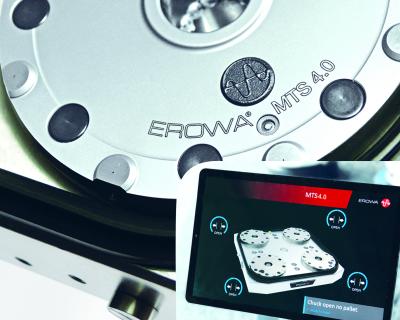 EROWA MTS 4.0 is the first zero-point tooling system with wireless digital status monitoring. With its integrated sensor technology, the status of the chuck is always known. The MTS 4.0 maximizes process safety by monitoring the tooling system where the machining process takes place. Through the sensor data, new evaluation options are created, which allow for focused reports on the chuck status.
In contrast to conventional zero-point tooling systems, monitoring sensors were specifically designed for the MTS 4.0. Each of the four chucks in the MTS 4.0 base plate are equipped with a sensor to check the presence of the workpiece holder and to monitor the actuating piston. There is also a force sensor to measure the clamping power. Similar to previous MTS versions, the chuck is operated with compressed air for opening, re-clamping and cleaning functions.
The chuck data and status can be visualized in real time through a display unit or the machine control unit. Because of the comprehensive monitoring of the MTS 4.0, it can be assured that the pallet is safely clamped during the machining process. Additionally, it is possible for preventative maintenance messages to be displayed when service is need on the chuck. This is to ensure that your machine is always operating at peak performance and that there will not be any unnecessary down-times. Comprehensive status monitoring provides the operator with the certainty and security that the machine is safely operating both with manual loading/unloading of pallets and in a fully automated process.
Related Glossary Terms
chuck


chuck

Workholding device that affixes to a mill, lathe or drill-press spindle. It holds a tool or workpiece by one end, allowing it to be rotated. May also be fitted to the machine table to hold a workpiece. Two or more adjustable jaws actually hold the tool or part. May be actuated manually, pneumatically, hydraulically or electrically. See collet.