November 13, 2013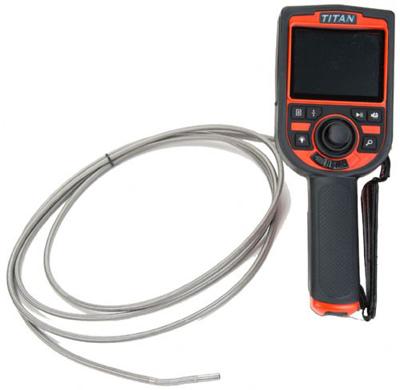 Titan Tool Supply introduces a new line of videoscopes to conduct remote quality control visual inspections required for aviation maintenance, casting inspection, cavity inspection, diesel or gasoline engine repair, locomotive maintenance, ship maintenance, and other applications. Offered at a lower price than comparable videoscopes, the new Titan Tool model TVSG videoscopes have the capability to record video or still images on the supplied 8GB SD card.
The new Titan Tool TVSG videoscopes feature 360 degree articulation with greater than 90 degree bending angle and five different light level adjustments controlled by a mechanical joystick for smooth, accurate control and immediate response to inputs. This also enables the camera tip to be steered through narrow bores, channels, and complex curves. Flexible testing cables are constructed of durable, corrosion-resistant braided stainless steel and are available in diameters of 4mm (0.157") and 6mm (0.236") in lengths of 1.5m (59") and 3.0m (118").
Titan Model TVSG videoscopes have a field of view of 80 degree/60 degree and depth of field of 15mm to infinity with 5X zoom function. The camera is illuminated by LED lights that can be adjusted in five different levels from off to high to deliver the correct amount of light. Each model is supplied with a foam-fitted carrying case that includes an AC power cord, AC battery charger, four rechargeable NiCad AA batteries (up to two hours working time per charge), an 8GB SD card, and a USB cable.
Related Glossary Terms
arithmetic average ( AA)


arithmetic average ( AA)

The mathematical expression denoting one of several parameters that describe surface texture (same as average roughness Ra). Average roughness is the arithmetic average height deviation of the measured surface profile from the profile centerline. See surface texture.

quality assurance ( quality control)


quality assurance ( quality control)

Terms denoting a formal program for monitoring product quality. The denotations are the same, but QC typically connotes a more traditional postmachining inspection system, while QA implies a more comprehensive approach, with emphasis on "total quality," broad quality principles, statistical process control and other statistical methods.